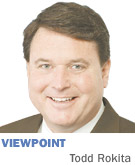 When it comes to helping students succeed, few things are more basic than making sure they eat well at school. Ultimately, this is supposed to be the job of every parent. However, when it's determined that a family is too poor to do so, churches, not-for-profit groups and taxpayers step in.
I am chairman of the Subcommittee on Early Childhood, Elementary, and Secondary Education and my committee has the responsibility to review federal government student-meal-assistance programs, making sure they are targeted to those in the most need and that they are paid for responsibly.
Despite being seriously mischaracterized in a recent IBJ opinion column, the Improving Child Nutrition and Education Act of 2016 is a major step forward in making sure an appropriate safety net exists and that nutrition standards are revised so school food is more edible.
Groups like the School Nutrition Association came to me asking for increases in their breakfast program reimbursement rates, which haven't been updated since the 1980s, and an enhancement of their summer meal programs. Because breakfast is so important and because I have visited over 100 schools in my public life, I feel that increasing the reimbursement rate for the voluntary breakfast program would increase participation and feed more kids who actually need the help. Similarly, more students in actual need in our rural areas would benefit from enhancing the delivery of summer meals.
However, when I asked the lobbyists how they wanted to pay for their requests, all I got back were blank stares. The fact is, they counted on having these reforms paid for on the backs of the very same kids in the form of national debt.
Instead, I led with a plan that solves these challenges without changing one kid's eligibility for meal assistance, and without costing taxpayers or adding to our debt. It's true that the U.S. Senate is also working on a version of my bill, but their plans don't address many of the nutritionists' requests and their plan isn't paid off for 37 years! People are tired of such gimmicks.
The current rules for the voluntary Community Eligibility Provision are perverse, as they encourage schools to be paid for giving out meals to all students, regardless of eligibility. Under current law, a school can be reimbursed by taxpayers for offering meal assistance to every student even if a mere 40 percent are eligible. By increasing that requirement to 60 percent, we at least make sure that a majority of students qualify for the taxpayer-subsidized meal before taxpayers pay for all students to receive them.
This is hardly unreasonable and is consistent with other school nutrition policies. The savings from this reform are then returned to the schools in the form of increased breakfast reimbursements and improved summer meal access.
Ensuring students in actual need have these protections in place is how "we the people" should judge success, not by how much more dependent on government we can make individuals and families or how much a school system can game taxpayers.
My goal will always be to help families rise out of needing government assistance. Our proposal responsibly continues to offer a safety net and returns power to local leaders and parents by revamping or eliminating many draconian regulations. By doing this in a deficit-neutral way, we ensure that students are getting the nutrition they need without forcing them to inherit an even larger national debt.•
__________
Rokita is a Republican representing U.S. House District 4. Send comments on this column to ibjedit@ibj.com.
Please enable JavaScript to view this content.