From 1940 to 1970, Richard "Red" Skelton was one of America's best-loved entertainers, eventually recognized with two stars on the Hollywood Walk of Fame for his work in both radio and television. He was also an accomplished commercial artist, composer and short-story writer.
Skelton was born into difficult circumstances in Vincennes in 1913. His father died before he was born. He went to work selling newspapers at age 7 and, by the time he was a teenager, he realized he had a talent for making people laugh.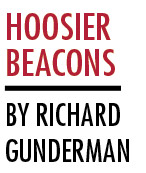 Soon, Skelton was part of a traveling medicine show. He sang and told jokes, sending nearly all the money he earned back to his mother. He then moved on to vaudeville, where he met and married his first wife at age 17.
In 1937, while Skelton was performing in the nation's capital, President Franklin Roosevelt caught his show and issued an invitation to perform at the White House. Thereafter, Skelton frequently served as emcee for Roosevelt's birthday celebrations. Soon, he was performing regularly on radio.
Skelton got his own radio show in 1941, with Ozzie Nelson as bandleader. In 1943, Skelton's wife divorced him, but his spendthrift ways led her to keep managing their funds. After the divorce, Skelton was drafted into the Army, opening the door for Nelson to begin his own radio show.
Though eventually married three times, Skelton was once asked the recipe for a happy marriage. His formula: "Two times a week, we go to a nice restaurant, have a little beverage, good food and companionship. She goes on Tuesdays, I go on Fridays."
In 1951, "The Red Skelton Show" debuted on NBC. In 1953, the show switched to CBS, where it remained until 1970. Despite lacking a highly rated lead-in show, it ranked in the top 20 shows each of those years, and finished nine of them in the top 10.
Skelton was a master of pantomime and physical comedy, and his many lovable characters included Clem Kadiddlehopper, a country bumpkin; Freddie the Freeloader, a hobo who struggled to avoid arrest for vagrancy; and Gertrude and Heathcliff, two cross-eyed seagulls.
One of the most difficult chapters in Skelton's life involved the illness and death of his son, Richard, who was diagnosed with leukemia at the age of 9. When the boy died in 1958, a group of fellow entertainers organized The Friends of Red Skelton Show to cover for Red.
Skelton also painted privately for much of his adult life. In 1964, his wife persuaded him to exhibit his work in Las Vegas, where he was performing. The show was a hit, and soon Skelton was earning millions from the sales of his artwork. During his life, he produced over 1,000 oil paintings of clowns.
Why clowns? He once said, "If some day you are not feeling well and you should remember some silly thing I have said or done and it brings back a smile to your face or a chuckle to your heart, my purpose has been fulfilled."
One of Skelton's greatest moments came in 1969, when he performed a self-composed monologue on the Pledge of Allegiance, commenting on the meaning of each line as he went. Within days, CBS had received over 200,000 requests for copies.
Skelton died in California in 1997, still beloved by millions. Though recording techniques in his day were rather rough, his antics remain as endearingly humorous as ever, and his warmth and humanity continue to shine through from every frame.•
__________
Hoosier Beacons pays tribute to Indiana's bicentennial by telling the stories of famous Hoosiers. It appears every other week. Gunderman is chancellor's professor at Indiana University.
Please enable JavaScript to view this content.