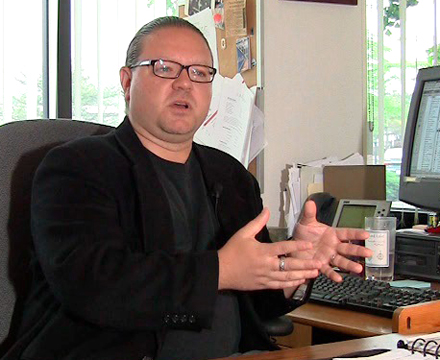 Travis DiNicola, the longtime executive director of not-for-profit literacy group Indy Reads and a fervent supporter of the local arts community, will be leaving Indianapolis by summer's end.
DiNicola, who has led Indy Reads since 2006, will be moving to Harrisburg, Pennsylvania, with his wife, Michelle.

Travis DiNicola
DiNicola, 47, said his last day at Indy Reads will probably be Aug. 31, although that date could change.
"My board has known for a while, as has my staff. We wanted to make sure we had plenty of time to make a good transition," he said.
Indy Reads Deputy Director Alyssa Newerth will step in as interim director until the organization's board can fill the position permanently, DiNicola said.
A native of Erie, Pennsylvania, DiNicola said family concerns prompted his and his wife's decision to move. His parents are preparing to move to State College, Pennsylvania, and his wife's mother and stepfather live outside of Harrisburg.
"It feels like going home," DiNicola said of the move.
He has some prospects in Pennsylvania but is not yet prepared to announce his next career endeavor. DiNicola's wife has landed a job as digital director for Pennsylvania's Department of Environmental Protection.
DiNicola said he'll miss both Indianapolis—his home for the past 20 years—and Indy Reads. The not-for-profit provides basic literacy tutoring to adults in central Indiana.
"It's been really fun. I'm going to miss it a lot."
When DiNicola joined Indy Reads, the organization served about 350 students per year. The organization now serves an average of 1,350 students per year.
In 2012, the organization opened Indy Reads Books, a Massachusetts Avenue store that sells new and used books and hosts literary, arts and cultural events.
This fall, Indy Reads plans to launch a pilot program to provide free literacy tutoring to area high-school students.
In addition to his work at Indy Reads, DiNicola is co-host of "The Art of the Matter," a weekly arts and culture program that airs weekly on WFYI 90.1 FM. The show's other host is Sharon Gamble. The pair has hosted the show for most of its 16 years on the air..
DiNicola said he plans to remain on the show through the end of August.
Lloyd Wright, WFYI's president and CEO, said the station definitely plans to continue airing "The Art of the Matter." However, because the station learned just Thursday that DiNicola would be leaving, officials haven't yet decided what they'll do. They could opt to continue with Gamble alone, or find a new co-host.
Regardless, Wright said, DiNicola will be missed.
"He's a great ambassador for the city for literacy, for the arts," Wright said. "It just seems like everything he touches turns to gold."
 
Please enable JavaScript to view this content.