Cardinal Spirits in Bloomington tried to get rid of Sunday tours.

What was the point? People would see how the distillery's vodkas, gins and other liquors were made. They'd try samples, maybe fall in love with the Black Raspberry Bramble or the Songbird Craft Coffee Liqueur.

But then they couldn't buy a bottle. They couldn't take any home.

That's because Indiana's controversial alcohol laws ban Sunday sales of takeout liquor. So customers of Cardinal Spirits were out of luck.

Wuslich
"But people kept asking for tours," said Cardinal co-owner Jeff Wuslich. "So then we'd have to tell people you can't purchase bottles on Sunday. It's frustrating."

Not anymore.

A new state law that takes effect July 1 lifts the ban on carryout sales for artisan distilleries, putting the businesses on par with wineries and craft breweries, which already sell alcohol on Sundays.

Only a few distillers are affected, including Cardinal Spirits as well as Hotel Tango and Broken Beaker in Indianapolis. But the industry is young. The Legislature didn't authorize craft distilleries—which produce small batches of liquors—to sell their products directly to the public until 2013. Since then, a handful of tasting rooms have opened across the state.

Clere
Rep. Ed Clere, R-New Albany, authored the legislation that essentially created Indiana's craft distillery industry. But, he said, the missing piece was the carryout sales on Sunday.

He introduced bills in 2014 and 2015 to change that, but he said the legislation got caught up in the larger debate about whether liquor stores, grocers and drugstores should all be able to sell alcohol on Sundays.

This year, lawmakers kept the issues separate and the bill for craft distillers—which limits Sunday sales to six 750-milliliter bottles per customer—sailed into law.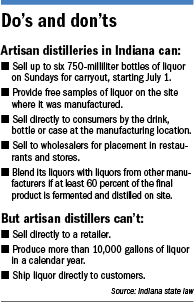 "I've never suggested that this is not an alcohol issue," Clere said. "But I've also tried to help folks understand that it's a lot more. An artisan distillery is about alcohol and it's also about small business and tourism, agri-tourism and economic development."

Huber's Orchard, Winery & Vineyards in Starlight sits right outside Clere's southern Indiana district. It attracts tourists from across the region who visit its children's farm park, farm market, cheese shop, ice cream factory, winery, gift shop and banquet facility.

It opened its distillery tasting room in 2014 but soon after canceled Sunday tours.

"They weren't able to give visitors a complete experience," Clere said. "And that's particularly important for Huber's because people are coming from 50 miles away or even farther. They're not going to come back on Monday to buy bottles. They're there on Sunday for the experience and part of the experience is being able to buy the product that you've tasted and enjoyed."

And Huber's knows what it's missing. About 30 percent of sales at its winery take place on Sunday. Clere predicts the same will soon be true of its distilled spirits, which include gins, whiskeys, rums and brandies.

Hotel Tango, on Virginia Avenue in Fletcher Place, already does as much as 20 percent of its business on Sundays—all of it by the drink in its tasting room. But Brian Willsey, one of the owners, is confident many of those people would leave with bottles if they could.

"We have 10 to 15 calls every Sunday about it, let alone the handful of people who come in and have a cocktail and ask for a bottle to go," Willsey said. "That's 20-25 bottles we're missing out on."

Hotel Tango currently sells vodka, gin, rum, moonshine, limoncello and orangecello. It is still aging its whiskey, bourbon and rum.

Another owner, Travis Barnes, said increased sales could come not only from existing customers who want to buy a bottle after trying out a product in the tasting room but also from people who realize they've forgotten to buy liquor for tailgating or other Sunday activities.

Monahan
But Grant Monahan, president of the Indiana Retail Council, said he doesn't expect craft distilleries to take significant business away from stores that sell alcohol.

"I think the business models are too different," Monahan said.

Wuslich, the co-owner of Cardinal Spirits, agrees. Artisan distilleries rely on tours and tastings to hook customers, he said.

"So much of getting people to enjoy a craft spirit is showing them our process and how we make it," Wuslich said. "A lot of them do that on a Sunday and we have to tell them to come back on Monday. And that's not very effective."

The retail council didn't oppose the Sunday sales law for distilleries, even as lawmakers declined to open up Sunday sales overall, something the group has been pushing for years.

"It's certainly a step in the right direction for the General Assembly to permit" craft distilleries to sell carryout on Sunday, Monahan said. "But it really just highlights the absurdity of Indiana's antiquated law prohibiting drug and grocery stores from selling on Sunday."

The war over Sunday sales has dragged on for years. Drugstores and groceries say they lose millions of dollars under the ban. But liquor store owners fear changing the law would increase their operating costs without generating much additional revenue.

Clere, who supports Sunday sales industrywide, said the distillery change "gets us incrementally closer" to a broader law. "It seems harder and harder to avoid the broader Sunday sales debate as we open up more exceptions."

For now, though, the focus is on the distilleries. Several are planning events to mark July 3, the first Sunday they can sell carryout liquor.

"Independence Day is coming early to Cardinal Spirits," the distillery announced on Facebook. "July 3rd, for the first time since 1920, you will be legally allowed to purchase bottles of spirits on a Sunday. That's right, you read that correctly—but don't rush out to your local liquor store or grocery store because this is only happening at artisan distilleries."

Cardinal Spirits plans free tours, food trucks and other events.

At Hotel Tango, the rollout will bequieter, but the owners plan to promote the change on social media.

"We are going to be launching a small campaign next week to just make sure people are aware of what's going to happen," Willsey said. "But we are trying to be a little sensitive to our retailers that are closed and can't sell on Sundays.

"We just want to tread safely for the beginning stages. But we intend to run a constant informational campaign to make sure customers are fully aware that [craft distilleries] are the only place in town where you can buy spirits on Sunday."•