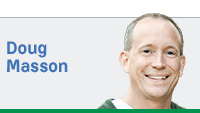 In 1916, Indiana had its centennial. We were a proud state, set on doing big things. This year, we are celebrating our bicentennial, and our ambitions should be no smaller. We should strive to earn the gratitude of those who will celebrate our tricentennial.
Indiana's progress during its first 100 years was remarkable, and it had a prominent standing in the country. In that first century, the pioneering settlers carved civilization out of the wilderness (displacing the native Americans who came before them). Under the leadership of Oliver Morton, Hoosiers had given good account of themselves during the Civil War. Since about 1880, Hoosiers had been making their mark as prominent members of the nation's literary community. Indiana was a decisive swing state in national elections. Hoosiers had been on the national ticket as presidential or vice-presidential candidates in nine of the 13 elections between 1868 and 1916. We mattered, and we knew it.
In 1915, Gov. Samuel Ralston asked the legislature to create a centennial commission and appropriate funds for public celebration. He desired to "jealously guard [Indiana's] fair name and zealously labor to preserve her untarnished glory." The Indiana Historical Commission was created to prepare and execute plans for the celebration and charged with collecting, editing and publishing materials related to the history of Indiana. The commission did more than that; it created our state park system as well. When the land for the present day Turkey Run and McCormick's Creek sites came up for auction, the commission took action to acquire them. The commission believed that, in addition to standing as a token to the past, the parks would "bring health, wealth and happiness to our own generation and the many that will come after us." (The Centennial activities also had a hand in paving the way for a state highway department and establishing the "Good Roads" movement in Indiana.)
Now, perhaps, like Ulysses, present-day Hoosiers are not that strength which in old days moved earth and heaven. I believe we are every bit the equal of our ancestors. My sense that worship of the past (as distinguished from granting our predecessors a due respect) is born more of nostalgia than reality. But, in any event, that which we are, we are. And we should make the best of it.
We should be asking ourselves what we can do today to create a brighter future for those living 100 years from now. What can we build for the future that is the equal of our park system or road network?
There is really no reason to lack ambition when we consider the possibilities. Consider as an example that Golden Age Athens had a mere 250,000 people. Our resources dwarf theirs. With a fraction of our people and resources, their culture produced art, thought and architecture that remains important 2,000 years later. We may not have the likes of Plato or Pericles in our midst. But if they could help shape Western culture for two millennia, surely we can produce a legacy that will last a century.
To do so, we have to foster a sense of community and common purpose, create an ambition for greatness, develop a tolerance for change, and instill a desire for lasting progress. We should hold fast to what is good, but we cannot clutch at tradition merely for its own sake. We need to envision the future and create it. Easier said than done, of course. But our bicentennial is a great time to get started.•
__________
Masson is a Lafayette attorney, author of Masson's Blog and former counsel for the Legislative Services Agency. Send comments on this column to ibjedit@ibj.com.
Please enable JavaScript to view this content.