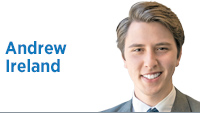 As Lady Margaret Thatcher often quipped, "First you win the argument, then you win the vote."
In a political landscape with too few politicians who adhere to their values or think outside the box, Nigel Farage does both. A member of the European Parliament for South East England, he is a founding member of the United Kingdom Independence Party (and led it until stepping down July 4). Many say he was the most important figure behind the Brexit grass-roots movement.
Farage has drawn recent comparisons to prominent American Republicans such as presumptive presidential nominee Donald Trump or Texas Sen. Ted Cruz. But stronger parallels can be drawn to Tea Party Patriots President and co-founder Jenny Beth Martin or perhaps libertarian-lite Kentucky Sen. Rand Paul.
Like Martin and Paul, Farage has worked outside the political establishment to build his cause from the ground up. Instead of relying on a large party apparatus or conventional platform, he has vigorously forged grass-roots networks to champion limited-government ideas and political independence.
As Farage notes in his book "The Purple Revolution," the "state is too big, too costly, too powerful, and robs the individual of inherited rights and freedoms." He argues Conservatives and Labour both entrench this reality. An avid critic of immigration policies in the European Union, he helped make this a centerpiece of the Brexit debate.
Farage might be the single greatest influencer of the Brexit decision. His push toward the June 23 referendum started some three decades ago. The former commodities broker has been politically active in conservative and Eurosceptic politics for much of his life.
Dissatisfaction with the United Kingdom's entry into the European Union in 1973 drove Farage to leave the Conservative Party and become a founding member of UKIP and one of its first officeholders.
Part pithy, bomb-throwing firebrand and part grass-roots leader, Farage has spent a lifetime working to win the argument. Charismatic and personable, Farage is equipped with the qualities that make great political leaders. Instead of seeking out a role in an established party—trumpeting a platform with which he disagreed—Farage helped found a movement.
In short, Farage worked for years to win the argument. After decades, he now has won the vote.
In a time where charlatans like former Secretary of State Hillary Clinton and Trump can rise to the top of the political food chain, Farage should be received as a breath of fresh air.Regardless of whether you share his worldview, his approach to bringing it to fruition is admirable.
When most self-described leaders willingly whitewash their own values to appear more politically viable for their next election matchup, Farage has been unabashed.
Farage's story ultimately underscores the value of third parties—not just in the UK but in the U.S. as well. Since Trump effectively wrapped up the Republican nomination, conservatives especially have been frustrated with the prospect of supporting Trump—someone many (myself included) see as out of touch with their worldview.
While pundits and party leaders often criticize backing third-party bids as wasteful, Farage's story should serve as a reminder that all great movements start small. While it's unlikely, for instance, that a Libertarian will be moving into the White House in 2017, that shouldn't prevent Libertarian-leaning voters from casting their ballots in support.
As November draws closer, voters have an opportunity to spark that next great movement. I can only hope we choose the best argument and not simply the best chance at carding a "W".•
__________
Ireland is a college Republican at Indiana University. Send comments on this column to ibjedit@ibj.com.
Please enable JavaScript to view this content.