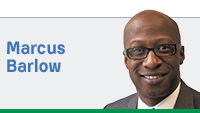 Why does it seem like things are more partisan than they've ever been? Certainly this isn't historically true, if you look at some of the campaign flyers from Jefferson vs. Adams, or Lincoln vs. Douglas, we aren't even close to the levels of vitriol that our forefathers routinely engaged in. Historically, we are definitely in an era of relative political civility.
So why do things feel worse? Why does it seem like our country is more divided than ever? Certainly this isn't historically true, especially for a nation that once was so divided that it went to war with itself.
I was taught that leadership is more than a position; leadership, whether good or bad, has a powerful effect on any organization. I propose that our present feeling of extreme partisanship is that our national leadership, namely President Obama, has been the most partisan president of my lifetime.
First, a bit of context. When President George H.W. Bush passed what many consider his most signature legislation, the Americans with Disabilities Act, in 1990. It was introduced in the Senate by a Democrat. When President Bill Clinton passed his key piece of legislation, the Family and Medical Leave Act, it had 10 Republican cosponsors. When President George W. Bush passed his first big piece of legislation, No Child Left Behind, it was sponsored by Sen. Ted Kennedy, one of the most liberal senators from one of the most iconic Democratic families in our nation's history.
What's President Obama's record? By far his most famous piece of legislation, the Affordable Care Act, was cobbled together without input from Republican leadership, and it had zero Republican sponsors. It might be unfair to completely blame President Obama for our current partisan mood, but we can certainly decry the fact that he hasn't made any attempt to change it.
Time and time again, when given the opportunity to unite the country, President Obama always chooses the lower road of attempting to score political points. Our most recent example is the massacre in Orlando.
A self-avowed terrorist attacks a night-club in one of our nation's most visited cities, ISIS takes credit for it and promises more attacks. And rather than uniting the country toward a common enemy who has caused the deaths of our citizens, President Obama decides to exploit the tragedy to push for gun control at a level that wouldn't have even prevented the Orlando terrorist from purchasing the guns he used.
To make matters worse, the president's political agenda is so ingrained into his psyche that he refuses to identify the terrorist as an Islamic terrorist, ignoring the global nature of the threat that this terrorist represents, and instead choosing to focus on a partisan political issue that his party has been attempting to move the needle on for decades.
It's disappointing, especially from a president who once claimed that there were no "Red States or Blue States," and promised to be a new brand of politician who would blur political boundaries and usher in the age of "Purple States." As his presidency thankfully comes to an end, his results were much different. Sadly, our red states are redder, and our blue states are bluer and we are left with a political climate that feels worse than ever before.•
__________
Barlow, a Republican strategist, was a press secretary for U.S. Rep. Chris Chocola and a spokesman for Mayor Greg Ballard and the state Family and Social Services Administration. Send comments to [email protected]
Please enable JavaScript to view this content.