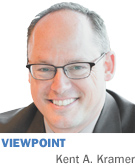 On June 21, the House of Representatives unanimously passed the Social Impact Partnerships to Pay for Results Act (H.R. 5170), which aims to increase public-private partnerships to expand evidence-based public health and social programs that address urgent social issues.
The legislation passed with bipartisan support—a rare achievement in today's political climate and one for which Rep. Todd Young and his co-sponsors should be commended. I hope the same result is delivered by the U.S. Senate as the bill now moves to that chamber.
If passed and implemented, this approach will be a game-changer in how organizations such as Goodwill serve families across Indiana and the country. By investing in strong programs with proven outcomes, long-term savings for the government can be realized, creating economic boosts for cities and states.
We at Goodwill know this well as the implementer of Nurse-Family Partnership in Indiana.
An evidence-based program, NFP helps first-time, low-income mothers—pairing each with a nurse who focuses on helping the mother have a healthy pregnancy and her child achieve developmental milestones. Nurses meet with mothers in their homes from pregnancy until the child's second birthday. Decades of national research show NFP's effectiveness at increasing healthy families and reducing infant mortality, among many other positive results.
After NFP has been in Indiana nearly five years and served 1,673 mothers, we're seeing meaningful results from the 258 mothers who have completed the program. More than 90 percent of babies were born at a healthy birth weight and 90 percent of mothers chose to initiate breastfeeding.
Additionally, two-thirds of mothers who self-reported smoking at intake have reported quitting. These outcomes benefit our participating families as well as our neighborhoods, cities and state in terms of health care savings, education spending and reduced crime rates long term.
As a former chairman of the NFP Community Advisory Board, I have seen the value in working alongside Indianapolis hospital leaders, nurses, community leaders and mothers to develop solutions for reaching those in need. Working together, we're able to provide services that identify those we can help, support them effectively, and build their confidence and long-term stability. It's an approach that works.
It is exciting to see such strong support and reward for innovative solutions with successful outcomes. To become a place where all people can thrive, central Indiana has work to do, and Goodwill's mission is aligned with meeting that goal. The Pay for Results Act will spur the type of real problem-solving needed to address issues like workforce development, educational attainment, and families' overall health and economic security.
I encourage other business and not-for-profit leaders to share support for this bill with Sens. Dan Coats and Joe Donnelly. It takes all of us, working together, to create programs that serve the best interests of those in need.•
__________
Kent A. Kramer serves as president and CEO of Goodwill Industries of Central Indiana Inc. He also serves on the State Workforce Innovation Council.
Please enable JavaScript to view this content.