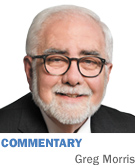 This week's IBJ Forefront supplement tackles the mass transit debate, among many other important topics. My hope is you'll read Forefront cover to cover. Both sides of the mass transit issue are covered. Mitch Roob isn't convinced it's a good investment. He's not alone, as many folks agree with him.
I respectfully disagree and believe expanding transit is worth the cost. And I'm under no illusion that the business plan is sustainable without public subsidy. I do agree with the anti-transit folks on that point. However, I believe a good transit system is worth the investment and I'm willing to put my tax money where my mouth is.
Please read the entire Forefront opinion piece, but I want to frame the discussion with an excerpt from Michael Huber, CEO of Indy Chamber, and Steve Sullivan, CEO of MIBOR Realtor Association, who co-authored the column that makes the case that a transit tax increase is a worthy investment in the city's future.
"The Indy Chamber and MIBOR have listened to thousands of local employers and homeowners and learned from other cities as we compete for jobs and investment.
"Our lack of transit options comes up repeatedly as an urgent issue: Indianapolis is the nation's 14th-largest city, yet our bus fleet ranks 84th. We have to close this gap.
"A yes vote for mass transit is a vote for growth and for giving local workers and families a better opportunity to reach the middle class through education and employment. It's a vote to bring new investment to struggling neighborhoods, and to make our city even more appealing to new talent and business."
I agree. I'll add that sometimes we forget that not everybody can afford to own, operate and maintain a car. It's a very expensive proposition and out of reach for many good people. In addition, forget the cost aspect for a moment—not everyone wants to drive a vehicle everywhere—especially upwardly mobile young folks. We need to retain and attract young talent to be a successful city. These up-and-comers want to use bike and walking paths and mass transit, and they insist on these amenities.
But, regardless of your age, you should be able to move around the city and get to work via some form of public transportation.
As it should be, the focus today is on the Marion County Transit Plan. But as a resident of Washington Township in Hamilton County, I'm extremely interested in the Red Line extension in the plan. Lately, every commute seems to be a fight to get into work and get home from downtown. It didn't used to be that way and I anticipate it will only get worse. I'm all in for a small tax increase to have another reliable transportation option from the suburbs to downtown.
Speaking of Hamilton County, what the heck happened to that referendum? The Washington Township board voted to put the referendum on this November's ballot but it was contingent on Clay Township's (Carmel) doing the same. The Clay Township board punted and didn't vote. I can't tell you what possible logic played into that decision. Carmel Mayor Jim Brainard has been a very outspoken advocate of a regional mass transit plan. I have a meeting with a Clay Township board member next week and I'll check in with Brainard to discuss. I'll report back.
When I think of all the opposition to a modest mass transit plan, I just wonder where the vision is for the city's future. I think of all the vision from city leaders in the past 50 years and all the great accomplishments. Mass transit seems like such a natural extension of where we need to head. Is this the same city that built a professional football stadium without a team? I can still see former Mayor Bill Hudnut greeting the Mayflower moving vans as the Baltimore Colts franchise moved to Indianapolis. If you build it, they will come.
In closing, with regard to Marion County, I'll borrow Huber's and Sullivan's words from their Forefront column: "Now it's up to us to vote yes to improved transit service. We believe this choice is clear: A modest cost for a major payoff, a transit system that will help us grow into a more convenient, connected city."•
__________
Morris is publisher of IBJ. His column appears every other week. To comment on this column, send e-mail to gmorris@ibj.com.
Please enable JavaScript to view this content.