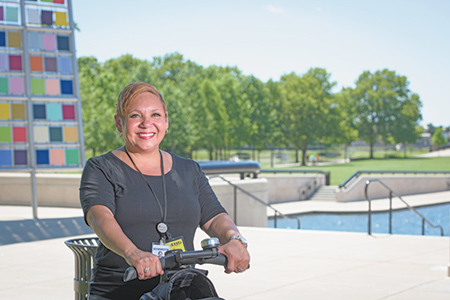 Carolene Mays-Medley isn't one to sit idle.
"I love being busy; I love working," said the recently appointed executive director of the White River State Park Development Commission.
"I grew up with a super-strong work ethic."
So strong is this drive, in fact, that it figures into one of her favorite anecdotes from childhood.
The summer she was 7 years old, Mays-Medley was visiting her grandmother in Nashville, Tennessee. She wanted a job, so she read newspaper want ads and called up employers looking for work.
One day, she saw an ad for a "dancer."
In her youthful innocence, she called about that ad. The man on the other end of the line asked, "Honey, how old are you?"
Her response put a quick end to that conversation.
Instead, she found her first official job at age 15, at Baskin-Robbins.
In the years that followed, she built an incredibly varied career. Before joining White River State Park in April, she worked as a utility commissioner, a state legislator, a newspaper publisher and an employee at family-owned Mays Chemical, founded by her late uncle, Bill Mays.
And that doesn't include her various community volunteer activities, including a lifetime board membership with the Indiana Sports Corp.
Mays-Medley talked to IBJ about her new job at White River State Park and how she's navigated her diverse career path.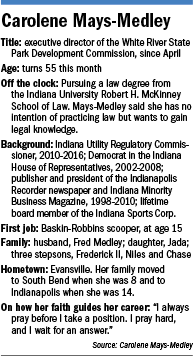 IBJ: Can you talk a little bit about what attracted you about taking this position with White River State Park?
MAYS-MEDLEY: I look at it as a great opportunity to continue to build downtown, build this corridor of downtown. And it's totally different. I'm one of these people that will take those risks, step out and take those risks. I never thought I was a risk-taker, but I finally, I guess, acknowledge that I am.
Since I've taken this job, almost everybody—whether they know me well or not well—will say to me, "That job is so perfect for you."
IBJ: What do you think they mean when they say that?
MAYS-MEDLEY: They see the connection of me just really working in the community on major events for the city.
I have just worked in this community for so long on events.
IBJ: You've been in position now for a couple of months. Have you formulated some longer-range goals or plans for the property?
MAYS-MEDLEY: In the couple months I've been here, there have been a lot of fires to put out. And they're not major fires, but I've spent a lot of time on things like parking—parking issues with all the various attractions that we have and trying to balance that out. I've been pulling together groups and meetings to try and work through a situation like that, so that there's a long-term solution. I felt like there had just been Band-Aids on it and just trying to appease people at the moment.
[Also], safety always is at the top of my list. So I'm now working on a long-term disaster/emergency plan for White River State Park in general, not just the concerts. We've been working with Live Nation through the years, from the information that I have, mainly on the concerts. But I want to do it for the entire park. That's been important to me.
And so down the road, other things that I know have been talked about—and begun—were additional parking for the zoo. They have plans to expand over the next few years, and so we have a commitment to the zoo to work with them to figure out additional parking space and help them expand.
At some point, what I'd love to see is for us to build this riverfront with restaurants, maybe other venues. I'd love to see a cultural museum down here that deals with the various cultures—African-American, Latino, Jewish—just all the general cultures.
IBJ: It strikes me that your career path has just been extremely varied, more so than the average person.
MAYS-MEDLEY: [laughs] Right!
IBJ: Is this something that happened by accident, or have you always had an idea that you wanted to try different things in life?
MAYS-MEDLEY: I don't say things happen by accident, because I don't believe in coincidences. I believe God has directed my paths and put me in these positions for some reason or another. I never know what's going to happen next. But I always pray before I take a position. I pray hard, and I wait for an answer.
I've been offered many other jobs, some even making a lot more money. I was offered one at Disney. They'd seen some of the work I'd been doing and actually flew in town to meet with me—I wasn't looking—and offered me a job making six times what I was making at the time. And I turned it down.
But things have come and it's been a great blessing. I even tell young people now, as I'm talking to them, that the community service work I've done has really catapulted my career more than anything else, outside of education obviously.
IBJ: Why do you think that is?
MAYS-MEDLEY: Number one, I think it builds within us teamwork. It teaches us how to organize. You make connections. People see the work that you do. I've really learned through the community service work, more than anything, how to plan. You have to look at everything. It's like a business. You have to look at budgets. You have to look at organizing people and managing personalities. You have to be able to decipher between proposals and venues.
IBJ: Right. That makes sense.
MAYS-MEDLEY: I also stress to [young people] education, obviously. I talk a lot about getting that base education. Because the careers that I've had, the different positions that I've had, I didn't study for those in particular. For instance, with the publishing industry: I had no journalism background whatsoever. But I had to go in and learn very, very quickly
IBJ: You mentioned a willingness to work hard. Are there some other traits or skills you've developed that have helped you over the years?
MAYS-MEDLEY: My faith has probably really been the key for me, moving in a direction that I believe God wants me to move in. And then trusting that it's going to work because I'm going to do what I'm supposed to do. That's been really, really key for me, the determination to make it work, that sheer passion that I have, that determination that I have to make sure that it works—and works not only for me but works well for the people that I'm touching.
IBJ: Can you think of a particular example of when determination carried you through?
MAYS-MEDLEY: The Indianapolis Recorder. My uncle [the late Bill Mays] walked into my office. I was at Mays Chemical at the time. He pulled up a chair to my desk and said—it was Thursday afternoon—he said, "I want you to go take over The Recorder on Monday."
My mouth dropped. My reaction was, immediately, "I have no experience in that area." I knew nothing about that business. And he looked at me, and he got closer, and he said, "But you have an entrepreneurial spirit and you're smart. Your learning curve will be steep but you will jump in and do it and you will do it well." And then he said, "It's a quarter of a million dollars in debt and I'll give you one year to turn it around or I'm going to close it."
IBJ: No pressure!
MAYS-MEDLEY: [laughs] So I looked at him and said, "I'll pray about it and I'll let you know." And so I got my answer quickly and I went over on Monday. He had not told [the newspaper's staff] that I was coming to take it over. They thought I was just coming to help with some accounting work. I felt like, at the time, the newspaper was really struggling. Not just financially, but they were still doing cut-and-paste in an era of computers.
I really had to dig in and learn and see what we needed to do. So we began to, obviously, move into the digital age. We had to revamp the sales, marketing, just every aspect of it. That was a huge challenge for me. I lost some staff because they didn't want to make that change. I felt like at the time that every time I would open a can of worms, another can would drop and open by itself. It was constant. But in the midst of that, we were able to turn the paper around. I pulled a great team together. We were able to turn the paper around in 14 months. It was profitable. I was able to even pay Bill.
IBJ: Is there anything else that I haven't asked you about?
MAYS-MEDLEY: I loved what I was doing at the IURC, absolutely loved that job. I loved digging in and learning and the technical side of it, believe it or not.
I was told I'd be bored stiff when I took that job. I wasn't bored ever, at all. When I was asked about this [White River State Park job], I was a little concerned about leaving a job I loved so much. Even though I knew I would enjoy this, I was comfortable with what I was doing.
When I did finally decide to come over and started this job, the first Friday I was here … . It had been a tough week. But that Friday, I left later than everyone else and I went out to the park and I just talked to people in the park and asked them how they were enjoying it. It was a beautiful day. I talked to some of the folks that work for the Segway company and for the bike company. And I looked around and I saw all these smiles, and I heard laughter and running and playing and people having fun.
And I said, "I am really in a beautiful, happy place." And I felt such a peace, and I knew I was in the right place for me right now. It doesn't mean it's where I'll be forever, but it's where I'm supposed to be right now, and I love it.•
Please enable JavaScript to view this content.