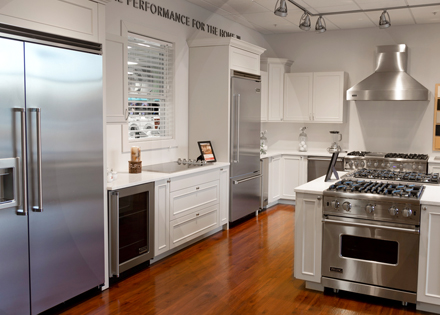 Indianapolis-based retailer HHGregg  Inc. says it plans to more than double the number of its stores featuring its high-end appliance format.
The pricey appliances are featured in showrooms that HHGregg brands as Fine Lines. The showrooms are connected to existing HHGregg store locations.
Currently, the appliance, electronics and furniture retailer has more than a dozen Fine Lines locations, including two in Indianapolis stores at 4161 E. 96th St. and  8921 S. U.S. 31. The latter was announced Thursday with two other locations, bringing the total to 14.
HHGregg also said it plans to open another 25 to 30 Fine Lines stores over the next two years. The concept is an extension of the retailer's recent strategy to focus more on appliances and furniture to counter softness in the consumer electronics sector.
In an e-mail sent to IBJ on Friday, the retailer declined to say where the new stores would be.
"For competitive reasons HHGregg is not currently sharing the location plans of future Fine Lines stores," the retailer wrote.
Fine Lines showrooms include ritzy brands such as SubZero, Wolf, Viking, Thermador, JennAir, Bosch, GE Monogram and Miele.
"Our Fine Lines locations have proved to be a strong-performing format and we expect that to continue in the future," interim CEO Robert Riesbeck said in a news release. "We believe our increased appliance footprint will continue to have a favorable impact on the growth and performance of these stores and the company overall."
In an interview with IBJ in 2015, then-CEO Dennis May said the chain needed to do more with the Fine Lines format.
"We've had double-digit growth out of our Fine Lines stores," May said. "If I had a time machine, I would go back five years and we'd have probably 50 Fine Lines instead of 11 of them. So look for us to be pretty aggressive there and really maximize that opportunity. Fine Lines doesn't belong everywhere, it just doesn't, but we have a great opportunity to expand that format."
Founded in 1955, HHGregg has 226 stores in 20 states. Fine Lines was introduced in the early 2000s, but didn't get a push to double-digit locations until the last several years.
The Fine Lines expansion news should not be a surprise to those who follow HHGregg. During an earnings call with analysts in May, Riesbeck said the retailer was on track to add up to 15 new Fine Lines locations by the end of the 2017 fiscal year.
Fine Lines has been a bright spot for HHGregg, which is struggling financially.
During the fiscal year that ended March 31, HHGregg reported a loss of $54.9 million, or $1.98 per share. During that same period, revenue dropped 8 percent and comparable-store sales dropped 7.7 percent.
Over the past year, shares of HHGregg have traded between $1.46 and $6.58 on the NASDAQ exchange, down from highs of about $30 in 2010.
Shares of the company were trading at $1.94 on Friday morning, up 7 cents from Thursday's close.
 
Please enable JavaScript to view this content.