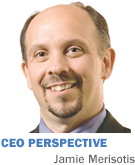 Last month marked a transformative moment in Indianapolis history, as our city celebrated the opening of the Julia M. Carson Transit Center. For many, the gleaming glass structure in the heart of downtown symbolizes a new chapter—one focused on connecting people to opportunity and cultivating a strong sense of forward momentum throughout the Circle City.
Beyond addressing Indianapolis' urgent mobility challenges, perhaps the most powerful promise of mass transit is its capability to connect our residents to a successful future—a future where equity in opportunity will help fuel our city's growth in the 21st century knowledge economy.
As residents of this city, we all want to enjoy a blossoming cultural scene that includes restaurants, the arts and walkable districts. As employees and employers, we all want to have the opportunity to flourish in a city that's focused on growing its talent pool and unlocking access to secure, meaningful careers.
Those who worked hard to build and launch the transit center know that, to create such a future for our city, the work is far from over—in fact, it's only just begun. Labor economists predict that, by 2020, 65 percent of all jobs will require some form of postsecondary education or training, yet in Marion County, just 36 percent of working adults hold at least an associate degree.
The good news is, we're making significant gains in postsecondary attainment each year—and much of our progress can be attributed to bold, innovative leaders who understand the urgency of building a city that will attract, develop and retain talent.
We know that reliable public transportation ranks near the top of the wish lists of educated, skilled workers who are considering a move to Indianapolis. According to a 2014 mobility attitudes survey by TransitCenter, millennials are more inclined than other generations to favor mass transit and gravitate toward the lively commercial districts and cultural amenities that tend to thrive along transit corridors.
Along with attracting outside talent, including millennials, it's especially critical to renew our focus on cultivating the talent of people who are already here. Consider that cities like Denver, Seattle and Austin—places known for their magnet-like ability to draw talent from the outside—tend to have some of the biggest educational equity gaps in the country. Indianapolis has a chance to take a different approach, to work in a way that will attract talent from across the nation while at once growing the talent of our most in-need residents.
Transit is not a silver bullet to addressing these challenges, but it does play an important role in creating the critical infrastructure our city needs to connect residents to the jobs, education and essential services that can help them grow their skills and knowledge. An ongoing study from Harvard University shows that transportation's relationship to social mobility is even stronger than other factors such as crime or the percentage of two-parent families in a community.
I believe that, soon, the economic effects of enhanced mobility will be felt throughout our city. As we continue to support projects that create access to a secure future—including investments in better education—more residents will have the opportunity to increase their knowledge, skills, experiences and abilities—resulting in a stronger, more talented Indianapolis. This sentiment is underlined in a recent report from Smart Growth America, which found that the nation's 30 most-walkable, transit-friendly cities also enjoy a more educated workforce and higher GDP per capita. That's a powerful indicator to our city leaders on where they should invest.
It's an exciting time for Indianapolis. Momentum like this can better attract talented workers, give our homegrown residents greater access to opportunities that will help them build real careers, and create a city that's prepared for 21st century success.•
__________
Jamie Merisotis is president and CEO of Lumina Foundation and author of "America Needs Talent: Attracting, Educating & Deploying the 21st-Century Workforce."
Please enable JavaScript to view this content.