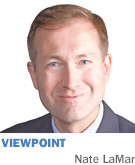 Indiana is the nation's most manufacturing-intensive state (25 percent of jobs) and the nation's second-most export-intensive state (per capita). Therefore, employers wanting to do business overseas should view Brexit as an opportunity, instead of a threat, and adjust accordingly.

In my second post-MBA civilian job 20 years ago, I became international sales director and executive committee member for a small, privately held manufacturer. I visited its office/warehouse in Bedford, England, approximately every six weeks. The owner said he located his European office in the UK, instead of the Continent, to avoid the language barrier.

Unfortunately, a Japanese competitor bought this manufacturer, converted it to a branch plant, and in recent years shut it down—all too common a story in our branch-plant state. This is why Indiana must attract corporate headquarters with their combination of managerial, professional and production jobs, if we are to ever turn around our brain drain.

Whether the language barrier or otherwise, an affinity for locating business units in the UK is the case with many Indiana companies. My employer has a UK sales office/warehouse in Corby, England (the UK is its number two export market, with the United Arab Emirates number one and Saudi Arabia number three). Recently, an average of 48 passengers per day flew from Indianapolis to London, according to Inside Indiana Business, which also reported that American Airlines was looking into a daily nonstop flight from Indianapolis to London. At least this was the case before the UK voted to leave the European Union.

With the UK departure from the EU, English will diminish as a business language within EU member nations. The importance of German for doing business in the EU will increase substantially, with French a distant second. A 2012 Eurobarometer survey showed the most widely spoken mother tongue in the EU is German. Therefore, companies serious about doing business in the EU should focus on the Continent, rather than its periphery. It would be wise to establish a sales office/warehouse in Germany. Although there are exit movements within other EU member nations, none are as strong as Britain's "Leave" campaign was. In addition, Greece might get kicked out.

Therefore, even if the EU falls apart, the economic power of German-speaking nations (Austria, Germany, Liechtenstein and Switzerland) is the fourth-largest among the world's language groups, according to The Economist, despite being only the 10th-largest by population. While not EU members, wealthy Switzerland and Norway have free-trade agreements with the EU. While the UK could do likewise, we can't count on it anytime soon, if at all.

In addition to contacting the governor and legislators, Indiana employers should also push the Indiana Economic Development Corp. to adopt the State Trade Expansion Program. All of Indiana's neighboring states take advantage of these federal Small Business Administration 2-to-1 matching STEP grants for their exporters. After all, we don't want Indiana to lose overseas market share to other states. Indiana companies must also push IEDC to restore Trade Show Assistance Program grants for small and medium enterprises, which were available from the former Indiana Department of Commerce until 2005. Those new to exporting may contact any of the seasoned international business practitioners who voluntarily serve on the Indiana District Export Council (www.indianadec.com).

Adjusting to Brexit will take employers time. In addition to hiring international MBAs, they might need multilingual staff, either of which might be intimidating to some "comfort zones." But Hoosier companies will become better positioned in the long run, in order to compete in today's global economy, especially in the EU, which is a larger market than the USA.•

__________

LaMar, an international manager, is president of the Henry County Council. Appointed by four U.S. secretaries of commerce, he has served on the Indiana District Export Council since 2003.