Visitors to The Children's Museum of Indianapolis have long been able to make like an archeologist and attempt to rebuild a replica of a Terra Cotta Warrior from shattered pieces in the museum's Discover Ancient Mysteries exhibit.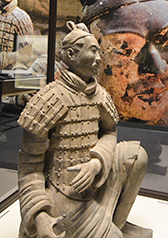 Each warrior has a unique face (Photo courtesy of The Children's Museum)
But now, things have gotten real.
The world-class exhibit "Terra Cotta Warriors: The Emperor's Painted Army" (through Nov. 2) features that same faux-warrior rebuild. But it also displays actual 2,200-year-old artifacts—including eight full-size warriors. The restoration, this time, is left up to the experts.
The no-two-alike clay warriors—an estimated 8,000 of them—are believed to have been ordered by Qin Shi Huangdi, China's first emperor, to protect himself on his after-death journey. Buried with the emperor in China's Shaanxi Province, the army of clay statues was discovered in 1974 by farmers digging a well in their battle against drought.
Well, the rest is history.
The farmers had stumbled onto one of the greatest archeological discoveries of the modern age—a series of underground vaults spread over a 22-square-mile area (Subtle, Qin Shi Huangdi clearly was not).
And, as informative graphics at the exhibition show, there's lots still to be discovered at the site, where uncovering of more pieces is being paced to keep up with preservation efforts of the artifacts. Who knows what cultural riches lie under the burial mound, which has yet to be explored?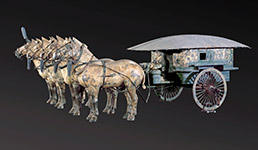 Azrtifacts include an intricate carriage and horse team. (Photo courtesy of The Children's Museum)
Methodically pieced together, the warriors are individually striking but invite an even greater awe when considered collectively. It's a project comparable to the building of the Great Pyramids. But, until now, it was rarely possible to get this close to them, especially in the United States.
A big plus is that exhibit designers have created relevant, unobtrusive interactives to go along with the display pieces. Adults can marvel at the warriors while kids can sculpt original faces, create their own miniature armies, or guess what materials were used to create the ancient paints that once covered but have long since worn off these marvels.
Of course, grown-ups might find themselves drawn to these hands-on activities, too, just as you might find kids spending time staring into the cryptic eyes of the warrior statues, trying to imagine the time of their creation and marveling at the fact that they are still with us.
Making its only U.S. appearance, the exhibit coincides with the Children's Museum's "Take Me There: China" exhibition, taking over the spot that housed "Take Me There: Egypt."
This time, the play jet takes visitors to Beijing, for a look at daily life and celebrations (but, of course, nothing more controversial than herbal medicine). Kids can visit a contemporary high-rise condo, operate a Chinese restaurant, play veterinarian to an under-the-weather stuffed panda, master the use of chopsticks, play Chinese instruments, or learn the intricacies of a tea ceremony.
Alas, the Children's Museum food court has not expanded to include a noodle shop.
Note: "Take Me There: China" is included with museum admission. Terra Cotta Warriors requires an additional ticket ($10, adults; $5, youth; $7.50, seniors, with discounts for museum members) on top of the standard admission charge.•
__________
This column appears weekly. Send information on upcoming arts and entertainment events to lharry@ibj.com.
Please enable JavaScript to view this content.