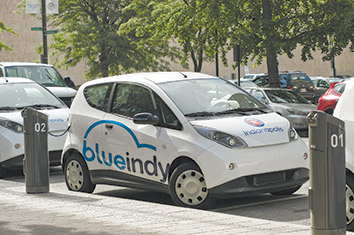 Still far from its projected break-even point, electric car-sharing service BlueIndy is going to school—literally—to help enlarge its membership base.
BlueIndy currently has a fleet of 240 cars and 75 stations around town—parking areas where the cars recharge between trips. Each station includes parking spots for multiple cars.
Of those 75 stations, only three are on college campuses. Butler University has two, and the University of Indianapolis has one.
But BlueIndy also has 19 additional stations currently under construction, and seven of those are at local colleges—three at Butler, two at the University of Indianapolis and two at Marian University. The goal, said BlueIndy General Manager Scott Prince, is to get all the new stations up and running by the time students return to campus this fall.
Last month, BlueIndy also launched a discounted youth/student membership for those ages 18-25, or for people older than 25 who are enrolled in school.
It's all in an effort to grow BlueIndy, which launched in Indianapolis in September.
"The goal is getting a lot of members taking a lot of rides—and we'll get there," Prince said.
BlueIndy's parent company is the Bollore Group, which is based in France. Bollore's chairman, Vincent Bollore, has said that BlueIndy will need 15,000 to 20,000 regular users in order to reach the break-even point. Bollore also said it could take three to four years to hit that mark.
BlueIndy has a long way to go before hitting that goal. As of this month, the company has enrolled just over 2,200 members who have completed just over 22,000 trips since BlueIndy's launch.
Going after the college market is one way BlueIndy is trying to grow its base, Prince said. College students may not have their own vehicles, yet they still need a way to travel around town.
"[BlueIndy] stations on a college are obviously going to trigger more members than stations at a hospital," Prince said.
That's not to say that all of BlueIndy's efforts are focused on the college crowd.
In May, BlueIndy opened four stations (20 total parking spots) at the Indianapolis International Airport.
Those airport stations, Prince said, have accounted for 10 to 15 percent of BlueIndy ride activity in the weeks since they opened.
The company plans to eventually have 200 stations around Indianapolis, and it's actively working to figure where those should be.
"The beacon is out right now for, 'Where should we be located?'" Prince said.
The company said it's in discussions with local groceries, cultural destinations and neighborhoods with an eye toward expanding BlueIndy's local service footprint.
Building out the station network, Prince said, is a main focus for the company right now—more so than turning a profit.
"We're in this for the long haul. [Thinking about] profit is almost distracting right now."
Bollore Group is a multinational company that operates in three main areas: transportation and logistics, communication, and electricity storage and solutions. The company has more than 58,000 employees worldwide, and it reported net income of roughly $800 million last year.
Bollore's sheer size, Prince said, helps give BlueIndy the time it needs to grow.
"We have a big balance sheet and we're able to have that type of patient horizon," he said.
Please enable JavaScript to view this content.