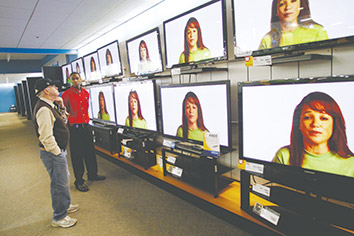 HHGregg Inc. has lost another executive, this one after being given more responsibilities in January.
The Indianapolis-based appliance and electronics retailer announced on Thursday afternoon that Jeffrey D. Pearson, senior vice president of marketing, ecommerce and strategy, has resigned his position to "pursue another opportunity."
Pearson joined HHGregg in 2006 as marketing vice president, was promoted to marketing senior vice president in 2011, and in January was given the added responsibility of overseeing e-commerce and strategy.
HHGregg said in the filing that Pearson's job has been eliminated and his duties have been absorbed by other staffers. The company did not immediately respond to a question from IBJ about why the position was eliminated.
Pearson's resignation is the latest in a string of senior-level departures. Most notably, CEO Dennis May stepped down in February, replaced on an interim basis by Chief Financial Office Robert Riesbeck.
Pearson is at least the 10th executive to leave HHGregg since mid-2012 and the seventh to depart since early 2014, either through resignation or termination.
Founded in 1955, HHGregg has 226 stores in 20 states. Amid an aggressive growth phase in the mid–to-late 2000s, sales began to slip as the recession hit and tastes in consumer electronics began to shift.
During the fiscal year that ended March 31, HHGregg reported a loss of $54.9 million, or $1.98 per share. During that same period, revenue dropped 8 percent and comparable-store sales dropped 7.7 percent.
Over the past year, shares of HHGregg have traded between $1.46 and $6.58 on the NASDAQ exchange, down from highs of about $30 in 2010.
Shares of the company were trading at $1.96 on Friday morning, up 7 cents from Thursday's close.
Please enable JavaScript to view this content.