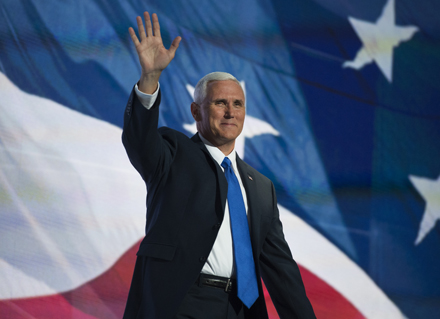 Two of America's smartest political strategists are analyzing the Republican National Convention this week for Bloomberg View, giving their perspectives on how the proceedings come across to millions of viewers and voters. They are Fred Davis, who has run scores of Republican campaigns and was the top adviser to the Super PAC supporting Ohio Governor John Kasich's presidential quest this year; and John Sasso, a longtime Democratic adviser who was the leading strategist for the presidential campaigns of Michael Dukakis in 1988 and John Kerry in 2004. Davis is watching from Los Angeles, Sasso from Massachusetts.
Our convention-watchers agreed that Indiana Governor Mike Pence, the Republican vice-presidential candidate, did a credible job with his nomination-acceptance speech on Wednesday night. They disagreed, however, on whether the third night of the convention, marked by Senator Ted Cruz's refusal to endorse Donald Trump, was good or bad overall.
"He is not a natural orator, but he did exactly what he had to do," Davis, the Republican, said of Pence's speech.
"You saw why Pence was the safe choice," observed Sasso, the Democrat. "He looked like an adult and could handle the job. But he did little to appeal to undecided voters."
Both agreed that Cruz's call to Republicans to "vote your conscience," which sparked anger and booing from the crowd, was a dominant note.
Sasso said Cruz's speech was "strange" and harmful: "When the No. 2 candidate won't endorse you," he said, "it shows that putting the party together is not there yet."
Davis demurred: "Ted Cruz fell on his face." He praised former House Speaker Newt Gingrich, who followed Cruz on stage and attempted to clarify or clean up the non-endorsement, and said the biggest damage was not to the party or nominee. "Wednesday night was the beginning of a turn in a better direction," he said,
Outside the hall, this was Trump's best day, or at least wasn't as bad as the convention's first two. In a rare retreat, the campaign admitted that the presumptive nominee's wife, Melania, had lifted lines from a speech Michelle Obama delivered eight years ago. The Trump campaign initially denied the plagiarism, even trying to pin the episode on Hillary Clinton. But 36 hours after the scandal erupted, Trump's organization admitted the copying had occurred, blaming an in-house speechwriter who they said had made an honest mistake.
Republicans were relieved that they finally seemed to be putting this story behind them, though they wondered how many other embarrassing incidents lay ahead before Election Day.
Pence, according to both Sasso and Davis, was a reassuring presence in that climate. The Democratic strategist noted that House Speaker Paul Ryan's warm introduction of the running mate resonated.
Davis was struck by the picture of Midwestern simplicity conveyed by Pence and his family: "There isn't any glitz or glamour, but they are real," he said. "They are people you'd leave the house key with when you go on vacation."
He said that Pence and Gingrich and a few others rescued what was building up to be "as another dreadful evening of enormously endless speeches."
Please enable JavaScript to view this content.