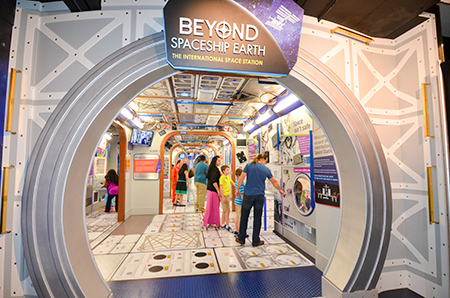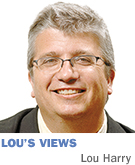 There are many ways to play in the Children's Museum's new permanent exhibit "Beyond Spaceship Earth," which now occupies significant real estate on the museum's bottom level.
You can, for starters, stuff a flight bag. You can don a space suit. You can use a hose to clean up floating droplets of spilled grape juice (an activity that led me to wonder if this was an actual problem on the International Space Station). And, if you are particularly dexterous—or young—you can crawl into a confined area and tighten some bolts.
There are also plenty of interesting artifacts to contemplate as well: checklists, notebooks, a NASA selection letter, a flag from the Gemini 8, and everyday items used when your every day is spent in orbit. I heard one visitor from Philadelphia say the collection is more impressive than you'll find in his town's Franklin Institute science museum. Pride point, Indy.
Of course, pop culture is also given its due, with displays featuring an actual Chris Pine/Capt. Kirk "Star Trek" suit, a Ravell Apollo-Soyuz model kit, and even a Yuri Gagarin post card. (Gotta collect 'em all!)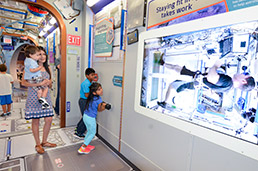 But, for me, the exhibit celebrating the exploration of space—and recreating parts of the International Space Station in kid-friendly form—is at its most impactful in a subtle pairing that beautifully captures humanity's desire for flight, our ongoing quest to reach out to what's next, and the appeal of both science and art that should be fostered in young people.
It's impressive enough to have astronaut Roger Chaffee's Apollo inflight suit behind glass. But it takes on more resonance when partnered with original artwork Chaffee created as a child: A simple airplane with wings, clearly not flight-ready, and a colorful star surrounded by ripples of color.
That display is in the entryway to the Schaefer Planetarium and Space Object Theater, a refurbished version of the old planetarium with a distinct twist: There's now an important space exploration artifact parked in the center. That object will change periodically, but the theater's first resident is a doozy: The Liberty Bell 7—the capsule that capped NASA's second suborbital spaceflight and was lost at sea after astronaut (and Indiana native) Gus Grissom escaped. That story is told in an earnest, informative show that combines planetarium-projected images and video footage, a live actor, and the capsule itself on a rotating/rising stage. It's one of two shows performed throughout the day.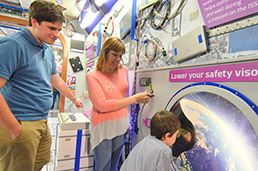 As with the space program, not everything runs completely as planned. On my visit, a few video screens were down. And kids and adults were both confused by a not-very-intuitive Bioreactor interactive area. But for an exhibit that has to accommodate crowds, what's been created here is surprisingly immersive and likely to inspire—and hold up—for years.
Credit for much of the effectiveness of the exhibit goes to Dr. David Wolf, scientist in residence at the Children's Museum who has logged 168 days in space, taken seven spacewalks, and helped assemble the actual International Space Station. But Wolf isn't alone as an astronaut strongly tethered to Indiana. The exhibit also includes an Indiana Astronaut Wall of Fame with interactive screens to learn more about these local connections—which cumulatively make for an effective advertisement for Purdue University, where many of them studied.•
__________
This column appears weekly. Send information on upcoming arts and entertainment events to lharry@ibj.com.
Please enable JavaScript to view this content.