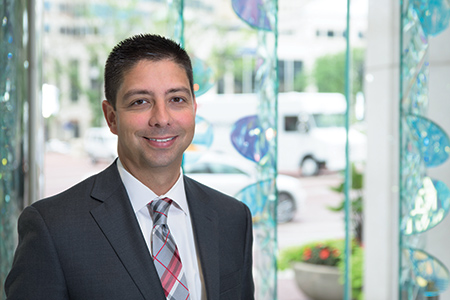 He doesn't have a business or engineering degree. Until five months ago, he had never worked a single day at a utility. And at 41, he is far younger than most of his peers around Indiana.
Rafael Sanchez, who took over in June as CEO of Indianapolis Power & Light Co., is a decidedly nontraditional pick to lead a company facing big challenges and difficult choices.
And he's the first to admit it—and to say it's a signal of change at a 90-year-old company that needs to re-examine how it is doing business.
"Make no mistake about it," Sanchez said. "My appointment to this position—being outside of the industry, not having been a prior CEO—is a pretty bold move on IPL's part. I can't think of something that announces the company is embracing change more than this appointment."
He started his new job in June, after a four-month apprenticeship as IPL's senior vice president of strategic planning. It was a dramatic change for a person who had spent most his career as a business lawyer at Bingham Greenebaum Doll.
His new job is a critical one. He is expected to help the utility and its parent company, AES Corp. of Arlington, Virginia, adapt to a flurry of challenges, including new technologies on power generation and distribution, stricter environmental regulations, and customers who are increasingly speaking up over rates and service.
Meanwhile, IPL is under pressure to build business. Its service territory is limited to about 500 square miles in Indianapolis and surrounding areas, and demand for electricity has been slipping. The number of kilowatt hours sold fell 12.2 percent last year, which the company attributed in part to warmer temperatures. But that put a big dent in IPL's finances. Operating revenue dipped 5.4 percent, to $1.3 billion, and profit tumbled 23.6 percent, to$59.5 million.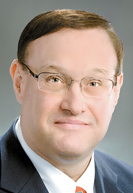 Brinegar
The slide has been a long, gradual one. For the 10 years ending in December, IPL's sales of retail kilowatt hours decreased at a compound annual rate of1 percent, according to a governmental filing in February by IPALCO Enterprises Inc., the utility's holding company.
Add it all up, and it's sure to be a big job—turning around an aging company in an industry used to doing things a certain way.
Sanchez said he doesn't plan to turn the company upside down. But he will ask lots of questions and push for answers that make sense for fast-changing times.
"By having me, IPL has a completely fresh perspective, somebody from the outside who can maybe challenge the way we've done things," Sanchez said.
His new bosses say that's a big reason they chose him to succeed Kelly Huntington, who resigned last summer to become senior vice president of enterprise strategy at OneAmerica Financial Partners.
During the selection process, utility experience was not as important as leadership skills and strong community connections, said Ken Zagzebski, president of AES United States.
And an outsider, while perhaps having a lot to learn, could challenge the status quo, he added.
"We looked at a number of candidates, but when you add it up, Rafael was a really good fit for us," he said. "When you don't have industry experience, you have a great ability to challenge how things are done. And I wanted someone who could think strategically and focus on the IPL of the future."
Managing relationships
Despite his big title, Sanchez actually is not responsible for much of the IPL's day-to-day activities. Many of the major functions, including operations, finance, legal, human resources and government regulation, report to other corporate officials at AES.
Sanchez' duties include strategic accounts (big customers or partners), public affairs and "stakeholder management"—in other words, dealing with any group or organization that might be affected by IPL's activities, from city hall to business and environmental groups.
He directly oversees just a handful of IPL's roughly 1,500 employees. "He's got a relatively small team, frankly," Zagzebski said.
But in another sense, he has a huge team: thousands of contacts in business and civic groups, cultivated by years as a lawyer and a chronic joiner.
He is secretary of the Indy Chamber, a board member at Indy Chamber, on the executive committee of the United Way of Central Indiana and co-chair of Plan 2020, among numerous other civic roles.
"He just connects well with people, and that's got to be a good quality in his new role," said Kevin Brinegar, CEO of the Indiana Chamber of Commerce. "He's certainly got a steep learning curve, no doubt about that. I wouldn't envy him in that regard. But there's just a lot of good, talented people at IPL who will help him make the right decisions."
Ann Murtlow, CEO of the United Way of Central Indiana, who formerly held Sanchez' job at IPL, called him a "really high energy person" and a "quick study."
From teller to CEO
How Sanchez wound up in Indianapolis is a tale unto itself. He was born and raised in Puerto Rico and graduated from the University of Puerto Rico with a major in political science. He got married right after college.
Then, both he and wife, Marisol, decided they wanted to study law in the United States. Marisol had studied one semester at Indiana University-Purdue University Fort Wayne. Sanchez' best man lived in Fort Wayne.
So the young newlyweds decided to sell everything they had and move to Fort Wayne, one of the few places in the United States they knew anybody—only to discover there was no law school there. For a month, they lived out of suitcases in the living room of a friend's house, and eventually found jobs as tellers at National City Bank (now PNC Bank).
A year later, Sanchez was promoted to branch manager. His wife became manager of another National City branch.A few more years passed, and they became restless.
"We hit the pause button and said, 'Wait a minute, this is not what we came here to do.'"
They decided to follow through on their plans to go to law school, and both were accepted at IU Maurer School of Law in Bloomington.
After getting his law degree, Sanchez took a job at Bingham Greenebaum Doll, where he advanced to partner. But after about 13 years in the legal world, he once again felt restless. He didn't want to do legal work for 100 different clients, he said. He wanted to shift to the business world and focus on one company.
He found at opportunity at Fineline Printing Group, a 35-year-old company that prints banners, posters and programs for a wide variety of clients. He became vice president of business development and legal affairs. It was a new experience for a lawyer used to drawing up contracts and partnership agreements.
"He was a sponge," said Richard Miller, Fineline's founder and owner. "He was always going around, seeing how things were made. He asks lots of questions and wants to understand everything."
In the meantime, Sanchez served five years on the IPL advisory board, a volunteer group of business and community leaders who act as a sounding board to IPL management.
Then, suddenly, the top job at IPL opened up. Sanchez was ready to jump. He wasn't concerned that he didn't have much in the way of industry credentials.
"I started looking into the position, starting having conversations with some of the leadership here," he said. "Eventually it evolved into me coming over as the senior vice president and learning more about the business, and then kind of morphed into my current position."
He gave his two-week notice at Fineline on the one-year anniversary of starting there. Then he dug into his new challenge.
Busy start
Sanchez has already had a few high-profile events. In June, he shared the spotlight with Mayor Joe Hogsett in announcing a program to install 100 new streetlights in coming months in areas of the city with high accident and crime rates.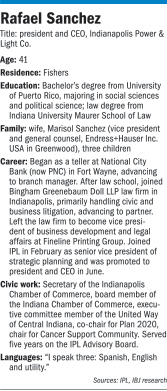 The announcement, which followed through on one of Hogsett's earliest campaign promises, marked the end of a 35-year moratorium on new streetlights in Indianapolis.
During a break in the ceremony, as an IPL technician installed the first streetlight, Sanchez turned to Hogsett, who had worked with him at the same law firm before winning election as mayor last fall.
"I said, 'Joe, if you would have told me five years ago that you would be mayor of Indianapolis and I would be president and CEO of IPL, I would have laughed at you."
Now that Sanchez has the job he has been chasing, he has to prove that he can perform at a tumultuous time.
IPL has undergone big changes in recent months, many of them started under Huntington. In February, the company stopped burning coal at its Harding Street power plant on the south side, ending a tradition that dated back to 1931. IPL, under pressure to meet stringent clean-air regulations, converted the plant to natural gas at a cost of $70 million.
The company is also retiring six coal-fired units at its Eagle Valley Generating Station near Martinsville and building a 650-megawatt combined-cycle gas turbine that will cost $630 million and go online next spring.
Meanwhile, the company is battling against environmental and consumer groups objecting to its plans to keep burning coal at its largest plant, the Petersburg Generating Station in southwest Indiana. IPL recently filed petitions with the Indiana Utility Regulatory Commission to install $100 million in pollution controls at the plant.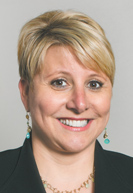 Murtlow
The environmental groups say it's a Band-Aid approach to keeping an old, dirty plant online, rather than changing to a cleaner fuel source.
But Sanchez points out that IPL is undergoing a huge transformation to get greener while still producing affordable power. The company's reliance on coal as a fuel source will drop from 79 percent last year to 44 percent next spring, he said. And in the past three years, IPL has deployed 96 megawatts of solar through 37 solar farms.
"For environmental groups, I want to establish relationships with them," he said. "I want to do a lot of listening. I just feel strongly that we are on the same team."
That's welcome news to environmentalleaders, who say they applaud IPL's smaller carbon footprint. But they are continuing to push the utility to move faster on other issues, such as cleaning up coal ash dumps near its power plants and rewarding customers who are energy-efficient.
"It is our hope, too, that [Sanchez] will lead IPL in breaking free of a utility lobby that has pushed hard for state public policies that have slowed or threatened the progress of energy efficiency and renewable energy for Indiana," said Jesse Kharbanda, executive director of the Hoosier Environmental Council.
Jodi Perras, Indiana coordinator for the Sierra Club's Beyond Coal Campaign, added: "We look forward to getting to know Mr. Sanchez and talking about the real-life health impacts of coal and the risks of future investments in fossil fuels like coal and natural gas."
Sanchez says that's just fine, and he will open his doors to everyone. And he promised he has no plans to jump ship anytime soon, despite his quick exit from the printing company.
"If I do, I will be the most wanted man in America," he joked. "I'm looking forward to staying here for a good long time and helping make a difference."•
Please enable JavaScript to view this content.