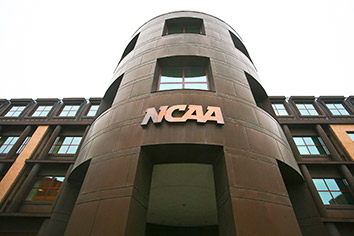 The NCAA is sending a questionnaire about potential discrimination laws to organizers in cities that will or are hoping to host sanctioned college sports events.
The NCAA board of governors' decision comes a day after the NBA announced it would pull its All-Star Game from Charlotte, North Carolina, because of its objections to a state law that limits anti-discrimination protections for lesbian, gay and transgender people.
NCAA leaders had expressed opposition to the law known as HB2 since it was enacted in March. The association's announcement Friday came less than a month after state legislators revisited the law and chose to leave it largely unchanged.
The NCAA said in a statement the new requirement will be for sites hosting or bidding on events in all divisions.
At the 2015 Final Four in Indianapolis, the NCAA, led by President Mark Emmert, took a strong stand against an Indiana state law that the association and other critics said allowed for discrimination against LBGT people. The NCAA threatened to move future events, including this year's women's basketball Final Four. The law was eventually modified.
The board in April adopted a requirement for host sites to demonstrate "how they will provide an environment that is safe, healthy and free of discrimination and also safeguards the dignity of everyone involved in the event." The questionnaire is intended to bolster that requirement.
Now North Carolina is facing similar pressure from businesses and the NCAA as Indiana was last year.
The NCAA has already booked sites for championship events and tournaments through the 2017-18 season, including numerous in North Carolina.
The Division I women's College Cup in December is set for Cary. Greensboro is scheduled to host early round men's basketball tournament games in 2017 and Charlotte is set to host first- and second-round games in 2018.
The survey has 10 questions and the NCAA is asking hosts and potential future host to return to the association by Aug. 12. There are 10 questions, including:
—Has your city, county/parish, and/or state passed anti-discrimination laws that are applicable to all persons?
—Does your city, county/parish and/or state regulate choice of bathrooms or locker rooms that may affect student-athletes, coaches, administrators, or game officials during the Event?
—In light of the Laws, Regulations or Policies applicable to the locations that seek to host NCAA Championships, how would you provide an environment that is safe, healthy, and free of discrimination, plus safe guards the dignity of everyone involved with the Event?
As part of your answer, please provide specific references to prior, hosted events or other tangible examples.
Please enable JavaScript to view this content.