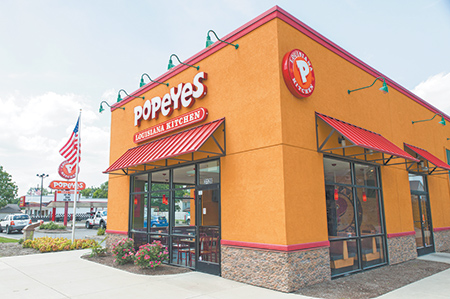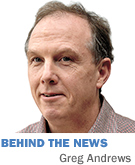 Popeyes Louisiana Kitchen is the third-biggest quick-service chicken chain in the United States, behind Chick-fil-A and KFC. But over the years, it hasn't had much of a presence in central Indiana—an omission its Atlanta-based parent set out to remedy by launching a big expansion here four years ago.
Seeking to fill a void left when local franchisee Will Pace closed five Popeyes in 2010, Popeyes Louisiana Kitchen Inc. set out to blanket the area with eateries. After opening restaurants rapid-fire, it now has 17 in this area.
Management of the company, which normally lines up franchisees instead of running stores itself, sounded almost cocky as it unleashed the expansion in early 2012 with all company-owned locations.
"We saw the opportunity to open Indianapolis and really demonstrate the powerful unit economics that we're seeing in our business model. There was not a readily available franchisee to make that happen, and it was a natural close-by market we thought we could easily cover," CEO Cheryl Bachelder said on a March 2012 conference call with analysts.
As so often happens in the topsy-turvy world of fast food restaurants, Popeyes Louisiana Kitchen's appetite for expansion exceeded its ability to execute, and it's now trying to turn around recently opened company-owned stores in Indianapolis and Charlotte, North Carolina, that are proving to be a drag on its overall results.
"So the challenges we are having is that Indianapolis and Charlotte did not meet their plan on top-line or on labor," Bachelder told analysts on a call in late May. "And we've put people on the ground to address both of these opportunities in those markets. I'll simply remind you, these are 31 restaurants, and, yes, they are not performing at plan, but we understand the responsibility to get them back on track in the back half of this year."
Thirty-one stores might sound like a pittance for a company that boasts more than 2,500 franchised locations in the United States and more than two dozen foreign countries. But because it owns the underperforming stores here and in North Carolina outright, the stumble had enough of an impact to catch the attention of analysts.
Domestic same-store sales growth was just 1.1 percent in the first fiscal quarter, which ended in April, but would have been 3.2 percent had the Indianapolis and Charlotte stores been omitted.
"We like the strong cash flow that PLKI's highly franchised store base produces," analyst Mark Smith of Feltl & Co. said in a report after those results were announced, "but we remain concerned with the company-operated restaurant results."
Retail brokers say there is nothing about the central Indiana sites the company picked that would suggest trouble lay ahead. The stores are scattered across the area and include fast-growing communities like Whitestown, Carmel and Fishers.
"Part of it might just be brand awareness, because they don't have that many locations" compared with larger competitors, Eric Hillenbrand, a retail associate with Marcus & Millichap in Indianapolis, speculated.
However, the company initially said the new stores were meeting or exceeding expectations. Retail brokers said a decline in performance after a strong start could suggest shortcomings with store operations that discouraged return visits.
Hillenbrand said one challenge for fast food restaurants is they need enough locations in a market to achieve economies of scale for advertising and abundant advancement opportunities to retain talented staff—but not so many locations that they cannibalize one another.
Whatever the reasons Popeyes has struggled here, the company can take solace in the fact that the store model itself appears sound—as evidenced by the robust record of same-store sales gains by franchisees.
And consumers' love affair with chicken shows no sign of waning. Fueled by the success of a number of chains—including Chick-fil-A and Zaxby's, which opened three central Indiana restaurants over the past two years—chicken quick-service restaurants have grown their market share to 8 percent, according to FranchiseHelp.com. They trail only hamburger eateries (30 percent-plus), pizza parlors (15 percent) and sandwich shops (12 percent).•
Please enable JavaScript to view this content.