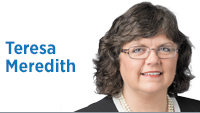 In July (before his decision to become Donald Trump's running mate), Gov. Mike Pence introduced a plan to "boost entrepreneurship and innovation" in Indiana that reportedly would cost $1 billion over the next 10 years. Great, right? Not so fast!
His proposal calls for fully half of the money to run this program, or $500 million, to come from the Indiana Public Retirement System—Indiana's public employee retirement program. According to reports, Pence would ask INPRS to invest a portion of its investment funds in early-stage and mid-market Indiana companies.
Let's get things straight: Since when has it become OK for the retirement assets of Indiana's public employees to be artificially manipulated to become risky seed money to benefit private companies?
And since when is it OK for the governor or any of his administrative agencies to direct INPRS to make any of its investment decisions?
Under Indiana law, the various public employee retirement funds—including the public employee retirement fund (PERF) and teachers' retirement fund (TRF)—are trusts overseen by a board of directors. This board is vested with a fiduciary responsibility that should not be impacted by others—including the governor, his agency heads or any other crony.
And these political figures and agencies certainly should not be given a green light to fund untested projects on the backs of public employees, including public school educators, who are counting on a secure financial future after retirement.
The proposal comes in the wake of inflation-adjusted declining wages and reduced benefits that have been followed by a series of recent changes made to an important part of each PERF and TRF participant's retirement benefit—his or her respective annuity benefit. So members are justifiably skeptical about politicians yet again putting their fingerprints on their assets.
In the last two years, interest rates on PERF/TRF annuities were dramatically reduced. And beginning January 2017, those rates could end up being cut in half over this same time frame.
The assets of INPRS are not a slush fund for politicians to use for pet projects, and the INPRS board should not ignore its fiduciary duties in order to please politicians. 
Educators are not blind to the fact that investing assets is a part of INPRS' administrative duties. These types of arrangements do not necessarily have to be done poorly. However, one directed and controlled by political officeholders (including the governor) and their appointees looks much more likely to become a way to skim off plan assets to the detriment of the fund participants. The same old adage: Privatize profits and socialize the losses.
Another maxim to consider: robbing Peter to pay Paul.
If this entrepreneur and innovation plan is such a good idea, then fund it straight up. Don't loot the retirement accounts of Indiana's hard-working public servants.
Pence might now be on to other pastures, but we might not have seen the last of this idea and public employees—including educators—are watching.•
__________
Meredith is president of the Indiana State Teachers Association and has taught for more than 20 years in Indiana schools. Send comments to ibjedit@ibj.com.

Please enable JavaScript to view this content.