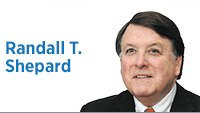 As we enter the finale of this astounding election cycle, we should pause to consider one of its most unsavory characteristics: a baseness in tone and language.
To be sure, political campaigns of days gone by often featured tough exchanges and sharp characterizations of opponents. Politics in the 19th century was not a game for the thin-skinned. And in the 20th century, sharp-elbowed material ran from Lyndon Johnson's commercial suggesting that little girls would die when Barry Goldwater set off nuclear war, to George H.W. Bush's work tying brutal killer Willie Horton to Michael Dukakis.
Still, what passes for debate in this election seems to represent a new low in the annals of public dialogue. I suggest Indiana has the capacity to go through the next three months without doing damage to our civic fabric.
In analyzing modern campaigns, we should separate out what we see on television in the form of commercials and what we see individual candidates or their surrogates actually say and do. Most commercials these days are planned and paid for by somebody other than the candidates.
This was not always true. Until the 1974 amendments to the Federal Election Campaign Act, most campaign cash was raised and spent by committees associated with the individual candidates. Federal legislation in recent decades has sought to keep money away from candidates, thus funneling massive sums to independent committees and PACs. This detachment has meant candidates have relatively little control over paid ads (the only ones they literally control are the ones where the candidate says, "and I approved this message").
That's why commercials like the recent ones by the Democratic Senatorial Campaign Committee roughing up Todd Young or those by the Republican Governors Association painting a negative image of John Gregg have come to seem like standard fare. Though they might be less effective than they used to be, consultants still tell clients that it's worth their money to run such stuff.
But the reason 2016 seems so much worse is a shift in what the candidates themselves and their surrogates are willing to say about each other.
Donald Trump plowed unattractive new ground when he stood on the stage with other Republican contenders and lambasted them using labels like "Little" and "Liar." Elizabeth Warren pleaded with convention delegates to reject the other party's divisiveness—then spent the remainder of her speech vehemently peeling the skin off the body of anybody whose views differ from her own.
This performance only approached the cravenness of the chief financial officer of the Democratic National Committee, Brad Marsh, who urged the committee to use Bernie Sanders' religious affiliation against him. Or the reaction of the committee's chief executive officer, Amy Dacey, who replied to Marsh's proposal by writing, "AMEN!" Debbie Wasserman Schultz might have taken one for the team, but the committee's initial reaction was to leave Marsh and Dacey at their posts.
There are better role models than these, like Michelle Obama at the Democratic convention and Mike Pence at the Republican convention.
And while we certainly won't be spared millions of dollars in tough commercials, I think John Gregg and Eric Holcomb, Todd Young and Evan Bayh have it in them as public servants to run aggressive campaigns without stooping to win. It would be a great gift if Indiana could run through November without damaging our collective mutual good will.•
__________
Shepard, formerly Indiana chief justice, now serves as senior judge and teaches law. Send comments to ibjedit@ibj.com.

Please enable JavaScript to view this content.