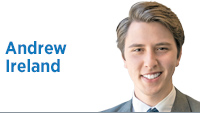 In what is certain to be among the nation's highest-profile races, former Indiana senator, governor and political scion Evan Bayh is mounting an effort to return to the U.S. Senate.

Following numerous reports of his last-minute entrance into the race to replace retiring Dan Coats, Bayh's July 13 tweet read, "We need to bring Hoosier common sense to Washington and make Indiana stronger for everyone. That's why I'm running for U.S. Senate."

No doubt Bayh is widely respected by both Republicans and Democrats. Despite a lifetime of experience on the trail, however, the landscape both politically and technologically has shifted since his last statewide campaign in 2004. Needless to say, it shows.

From SEO to basic social media, Bayh's digital presence is lacking. Here are just a few of the rough spots:

In the digital world—much like real estate—location is everything. Search engine placement is vital to fundraising and spreading a message. Bayh's campaign site, www.EvanBayhforIndiana.com, misses the first page on Google when you search "Evan Bayh for Indiana."

But what is at the top? A sponsored donation link for his Republican opponent, Rep. Todd Young, with the call to "Stop Lobbyist Evan Bayh." The Young campaign is going on offense and Bayh's campaign has yet to take the field.

Maybe to blame is the campaign's use of the aforementioned domain name www.EvanBayhforIndiana.com. You can ask for a divorce in fewer characters.

If you can find it, Bayh's site is full of little errors, including paid-for information boxes in different colors, missing contribution-limit language, and outright quirky formatting. Clearly something put together in haste, the campaign has now had several weeks to correct this.

Maybe more important, Bayh's site is not formatted for mobile. Over half of all searches are now via smartphones, so no campaign can afford to limit its digital presence to desktop computers.

Bayh's social media is no better. His longtime personal account @SenEvanBayh, which has been dormant since May, shows up on a twitter search before the campaign's.

If you do make it to the proper social pages, you can see that both his Facebook and Twitter accounts lack activity, including 10 days straight between his announcement and the end of July.

Finally, Bayh's one appeal for donations, a $5 "pitch in" request, links to a generic form with none of the four preset options being for $5.

Let me be clear: These issues are not deal breakers on their own. They are, however, beneath a campaign with such a sizable war chest. Coming in with some $10 million in his account, Bayh has the resources to piece together nothing short of a stellar political operation.

Bayh's first weeks as an announced candidate point to a lack of campaign organization or competence—either of which should come as a shock for politicos but a deep sigh of relief for Republicans hoping Young can still pull out a victory despite his near 8:1 cash deficit.

Senate campaigns such as that of Ohio Sen. Rob Portman are spending millions of dollars for finely targeted digital strategies. It should only be expected that Bayh's campaign would be more prepared to do the same.

In a race that without Bayh was nearly guaranteed to be a Republican lock, these problems do matter. Bayh might have a message that continues to resonate with Hoosiers, but so far his campaign has failed to capitalize and promote it through contemporary mediums.•

__________

Ireland is a college Republican at Indiana University. Send comments to ibjedit@ibj.com.