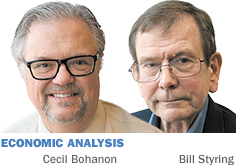 "There is no dignity quite so impressive, and no independence quite so important, as living within your means."
–Calvin Coolidge
We Americans seem to be doing too little of this. A recent survey of U.S. households reveals that 46 percent of all households report their spending is equal to or in excess of their income. When asked how they would deal with an "emergency expense costing $400," about half said they couldn't come up with the money. This held for 66 percent of households with income under $40,000 and 19 percent of those with over $100,000! No rainy day fund. Not even a modest one.
If so many households save so little that they can't cope with a small financial jolt, is this bad for our future economic prospects?
The short answer is "yes." Every first-year macroeconomics student is taught, a bit simplistically, that "savings equals investment." Investment can't take place unless someone, somewhere, forgoes current consumption in lieu of an investment good that promises increased production of future consumption goods. Capital goods don't come from thin air.
The ability of any economy to produce consumption goods comes in large part from its stock of capital goods. Subtract tractors from farms or ovens from bakeries, and even a whole staff of engineering Ph.D.s won't produce a lot of bread and cookies. More savings—forgone current consumption—allows for more capital formation and, ultimately, more prosperity. Household savings is a virtue, and not just for the individual family's financial stability.
There is an alternative view much loved by politicians who like to spend money (which is to say, most of them). Savings, so the story goes, is income withheld from current purchases. Too much saving means current production is not purchased, and economic activity contracts. More government spending is necessary to make up for this shortfall of private demand.
We can look through history and find isolated short periods, mostly during financial panics, when this analysis holds. But as a general rule, our financial markets—that panoply of stock and bond markets, banks, mutual and venture capital funds—do a good job of matching savers with investors and preventing any such underconsumption.
So here is the bottom line: A larger savings account not only makes your life less stressful; it also adds to the future prosperity for all of us. A rising savings rate is an economic benefit, not a problem.•
__________
Bohanon is a professor of economics at Ball State University. Styring is an economist and independent researcher. Both also blog at INforefront.com. Send comments to ibjedit@ibj.com.
Please enable JavaScript to view this content.