Since Westerns galloped off the small screen at WHMB-TV Channel 40 six years ago, high school sports programming has stood alongside its hallmark Christian programming as the only two constants for the station over the last three decades.
WHMB is entering its 29th consecutive year broadcasting high school sports. That's the longest streak in the state, and station officials think it might be the longest in the nation as well.
"We've been in this game a long time," said WHMB General Manager Keith Passon, a 29-year broadcast veteran. "A lot of players have come and gone."
Since WHMB aired its first high school sporting event in January 1989—a game featuring schoolboy legends Eric Montross of Lawrence North and Damon Bailey of Bedford North Lawrence—several of the market's bigger stations have taken a shot at broadcasting high school sports. None has lasted.
"I think what WHMB has done is incredible," said Bob Lovell, host of "Indiana Sports Talk," a Friday and Saturday night high school and college sports radio show heard on more than 30 stations statewide.
"They've figured out a way to make this work," Lovell said. "They understand high school sports—the audience and the advertisers—and their following continues to grow. Everyone who pays attention to high school sports in this area is watching the games on Channel 40."
The last to pull out of the high school sports game was WRTV-TV Channel 6, which announced in June that, after a five-year run, it would on Oct. 1 fold its HomeTown Sports & News Network on digital channel 6.2.
WRTV General Manager Larry Blackerby said "the cost of this programming is too great," calling the decision to switch the channel to a national TV network featuring classic action and Western movies and TV series "strictly a local business decision."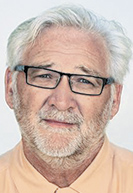 Lovell
HTSN also aired Indianapolis Indians baseball and Indy Fuel hockey games, as well as numerous multiple Indiana college sports.
Fox Sports Indiana airs Indiana High School Athletic Association tournament games, but during the regular season, WHMB now owns high school football and basketball. Its football preview show will air Aug. 12; regular-season coverage kicks off Aug. 19, with games airing Fridays at 10:30 p.m. through the semi-state.
During basketball season, WHMB broadcasts one to two regular-season games a week, plus the Indiana Basketball Hall of Fame Classic tournament, which is played between Christmas and New Year's Day. That's eight games in two days. WHMB also broadcasts six sectional games, three regional games and two semi-state games.
The Friday night football and basketball games are tape-delayed. The Hall of Fame Classic and some postseason games air live.
In the fall of 2012, WHMB began live-streaming high school games on the station's website, and that audience is growing at a double-digit-percentage clip year-over-year, WHMB officials said.
Survival strategy
So how has WHMB, a tiny independent station owned by South Bend-based LeSea Broadcasting Corp., survived in an arena where its much bigger broadcasting brethren have failed?
"We run lean," Passon said.

The station's come a long way since it first schlepped its equipment to a game in a U-Haul truck, he said. The mobile unit was later upgraded to an RV, but that caught fire and burned up along Interstate 70 on the way to a game in the late 1990s. The station now has a Freightliner truck and upgraded it to high-definition in October 2013.
WHMB produces a high school football game with five cameras (two on the field, two up high and one on the scoreboard) and 15 workers, many of whom are free-lancers who do it as much for love of the game as a paycheck. The game staff includes two on-air broadcasters; a statistician; and 12 camera operators, producers, directors and other behind-the-scenes types.
After nearly three decades, Passon said the station has learned some efficiency patterns for broadcasting the games. Still, it costs "several thousand dollars" for each game, he said.
But there's another reason for the station's success with high school sports.
"High school sports is a cornerstone this station was built on," said Production Manager Jeff Elliott, a 28-year WHMB veteran. "It's a heritage piece that we've built on."
Passon, who has been with WHMB for 21 years, admitted the audience for high school games isn't huge. Most attract 2,000 to 10,000 households, according to New York-based Nielsen Media Research. Another 2,000 or so people watch the games online, Passon said.
He called that a "solid niche." And that niche, said the station's sales manager, Jim McConville, is strong enough to bring in a steady stream of community-minded, high-school-sports-loving advertisers, including Indiana Members Credit Union, Godby Home Furnishings, Indiana Criminal Justice Institute, and the Andy Mohr and Tom Roush auto dealerships.
"The games bring in a multi-generational audience. It's a community and family audience, and our advertisers really like that," McConville said. "We get the students and coaches as well as the parents and grandparents watching."
$core!
With the audience size smaller—much smaller in some cases—than an average local TV newscast, advertising rates are also cheaper than on WTHR-TV Channel 13, WXIN-TV Channel 59, WISH-TV Channel 8, WRTV-TV Channel 6 and WTTV-TV Channel 4.
Ads during WHMB's high school sports are often sold in packages, McConville said. He declined to detail rates, but local media buyers said they are generally below $100 for a 30-second spot. The same space on a local TV newscast costs $400 to $1,000.
WHMB's ad rates are more in line with cable's public access stations and radio advertising, McConville said.
"For WHMB, the pitch is about offering local programming that isn't available anywhere else," said Bruce Bryant, president of locally based Promotus Advertising. "They try to connect local businesses with neighbors. It's hyper-local, and for some advertisers, that works. It's not a big financial risk, and that's attractive to some companies, too."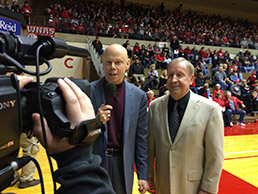 Howard Kellman, left, and Dave Nicholson are among the four on-air personalities who provide play-by-play and commentary for high school games broadcast by WHMB. (Photo courtesy of WHMB-TV Channel 40)
McConville called ad sales for the games "very good." Just as important, McConville said, high school basketball "has become part of the station's brand," and that has led to crossover ad sales for other programs.
"We don't make an inordinate amount of money, but, yes, [high school sports] is a profit center," Passon said. "It's also a community service. A big part of it is, we want to support the schools and what they're doing. We want to give the players and coaches that work so hard at these sports some recognition. But we don't have deep enough pockets to have a loss leader like the bigger stations do."
Over the years, WHMB has also broadcast high school soccer, lacrosse, swimming and diving, and even club bowling.
With WRTV out of the picture, Passon said he hasn't ruled out covering even more high school sports.
"Right now, people are beginning to realize we're the only game in town," Passon said. "If we can add some programming and not lose money doing it, I'm all for it."•
Please enable JavaScript to view this content.