Chad Priest took the reins of the Indiana Region of the American Red Cross last October in the aftermath of drastic chapter closures and in the midst of preparations to relocate—and significantly downsize—the Indianapolis headquarters.

But the 41-year-old CEO says he had the easy job—executing a plan that had already been set by retiring CEO John Lyter, who spent nearly 50 years with the Red Cross either as an employee or volunteer.

"I walked into a really good situation," Priest said. "Sometimes you don't. Sometimes it's a cleanup mission."

Priest said the first day he walked into the group's former office on 10th Street, he awkwardly greeted the receptionist and sat at his desk, having no idea what to do.

"I just remember thinking, 'Oh my God, I hope everybody doesn't leave,'" Priest said.

The region has, in fact, seen turnover in its leadership team since Priest started. But it didn't happen immediately, and Priest attributed the changes to a variety of personal reasons.

Meanwhile, the national organization has endured several years of criticism for misstating how donated funds are used in response to national disasters, including the 2010 earthquake in Haiti, and the widespread closure of offices and chapters.

Priest doesn't shy away from talking about the negative attention, but said he hopes the not-for-profit is rebounding from the accusations.

"We're not afraid to turn the lens on ourselves," he said. "We don't love it, but it gives us an opportunity for dialogue."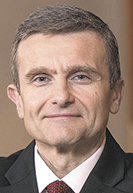 Pasic
Amir Pasic, dean of the Indiana University Lilly Family School of Philanthropy, said the agency doesn't seem to be struggling to collect donations or find volunteers, despite the increased scrutiny.

"I think it will take some time for the memory of these events to be changed, but I think they're on the right path," Pasic said. "My sense is, the Indiana folks are doing a good job."

In Priest's first year, he's supervised the move back to Meridian Street—the same road where the organization got its start 100 years ago—and he's continuing a mission that started in 2014 with the nationwide reorganization to make operations more efficient.

One major effort is reducing the group's office size and switching to an open floor plan.

The new Indianapolis headquarters, which opened in December, is the pilot for an office design the Red Cross plans to implement nationwide. The 24,000-square-foot building at 1510 N. Meridian St. is about a third the size of the former location.

"We did this primarily by getting rid of all the offices," Priest said.

The first floor has meeting rooms, training space, lockers for employees, restroom facilities with showers in case the building has to be used in an emergency, and open work space near the front entrance for public use.

The second floor has 60 work stations that wrap around the perimeter, giving the 40 employees who use the office views out the large windows. More meeting rooms, lockers and a break room are also upstairs.

A third-floor feature not included in the pilot design is a rooftop patio with seating, internet access and outlets for employee use.

Although Priest didn't have a say in the design of the office, he's a big proponent of open workspaces.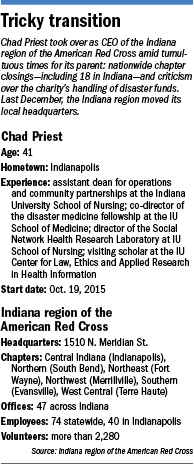 Each workstation has a computer and phone that employees log into when they start the day. Staff members—including Priest—are expected to sit at a different desk every day, although the rule's not monitored.

"It's great," Priest said about not having a private office. "I'm out working with folks."

Previously, the Red Cross operated out of a building at 441 E. 10th St. As part of a land swap with the city of Indianapolis, the not-for-profit agreed to move to North Meridian so the Indianapolis Fire Department could move its headquarters and firehouse from Massachusetts Avenue to the 10th Street property. That will open up Mass Ave space for development.

"It was a great home to the Red Cross for a long time. It was bittersweet to leave," he said. But, "the function just wasn't there for us anymore."

In addition to downsizing to smaller offices, the Red Cross has also cut chapters and closed offices. In Indiana, 24 local chapters were reduced to six.

Priest said evaluation of the state's remaining 47 offices should be complete next year. He's tasked with considering which offices should be moved, which should close, how much space is actually needed and where offices would serve the most families.

"It may be consolidating so they can deliver more services," Pasic said. "At the end of the day, I think that's what they're trying to do. … I think that all points in the right direction."

The next big task for Priest is recruiting more volunteers. In the fall, the organization plans to launch a marketing campaign to that end.

More than 2,280 volunteers already work for the Indiana region—representing 97 percent of the group's "staff"—but Priest would like to increase that.

"We cannot wait for a big disaster for our community to come together," he said.

Early recruitment efforts are paying off. In May, the Red Cross announced an alliance with IU Health that brought on 2,000 nurses as volunteers. It was deemed the single largest on-boarding of nurse volunteers since World War I.

The Red Cross is also partnering with Luna Language Services to reach the thousands of Burmese people in Indianapolis. It plans to include billboards written in Burmese as part of its campaign in the fall.

According to the Burmese American Community Institute, Indianapolis is home to nearly 14,000 people from Myanmar, which represents 9.5 percent of the number of Burmese nationwide.

And to make sure new volunteers stick around, the Red Cross is working with local service design company Collabo Creative to determine how to improve the overall experience.

"I think after our reorganization, people were a little gun-shy. I think we were tired," Priest said. "We had lost our focus. In some ways, we had become a staff-led organization. We're a volunteer-led organization."•