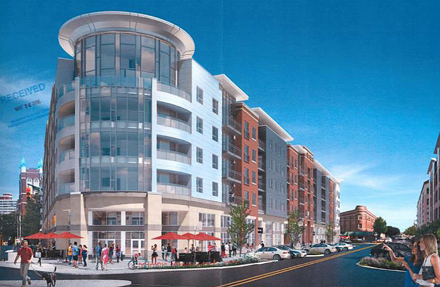 Developers of a $50 million mixed-use development to be built on Massachusetts Avenue have dropped a controversial three-story electronic billboard from the project's design. They also changed the building's name.
Desma Belsaas, an architect at Schmidt Associates, the designer of the residential-retail development formerly known as Montage on Mass, informed the Indianapolis Historic Preservation Commission of the decision Wednesday.
New plans, which IHPC approved unanimously, now call for a "glazed feature" made of glass in the rectangular space on the facade that was previously reserved for the "digital canvas," Belsaas said.
"It became clear that 'the billboard' was not something the commission would approve, so we still have this rectangle to get approval from the commission," she told IHPC members.
In previous designs for the project, the west-facing facade included a multi-story video screen. (Image courtesy Schmidt Associates)
Minus the billboard, which developers said would have given local artists an opportunity to showcase their artwork, the project's name has been changed to Penrose on Mass.
Schmidt Associates is developing the project with  J.C. Hart Co. Inc. and Strongbox Commercial. They are set to build the five-story, 236-unit development on the northeast corner of Massachusetts Avenue's intersection with North New Jersey Street. It also would include 37,000 square feet of retail space.
The developers originally separated the design of Penrose on Mass and the 25-by-40-foot art display when presenting plans to IHPC, so the project could move forward without final approval of a billboard design.
In April, the developers withdrew the design of the canvas from a vote after it became clear that commission members would not support it. That was after IHPC staff already had given the design an unfavorable recommendation.
Penrose on Mass is part of a complicated land-swap deal involving the city and several other entities.
As part of the land swap, the Indianapolis Fire Department's headquarters—which was located on part of the development site—has moved into the former American Red Cross building at 441 E. 10th St. A credit union on the site also will move.
The Red Cross has moved to 1510 N. Meridian St., into its new $9.9 million, 24,000-square-foot headquarters.
A new credit union is being built to the west of the existing Firefighters Union building at 748 Massachusetts Ave., near College Avenue.
 
Please enable JavaScript to view this content.