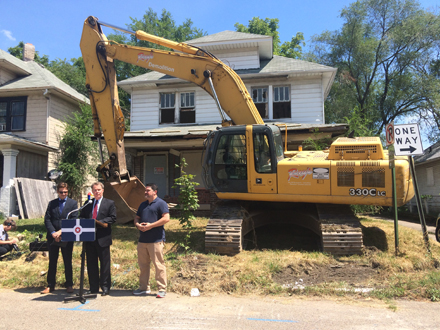 Mayor Joe Hogsett, standing in front of a dilapidated house on Indianapolis' near-east side Monday afternoon, pledged to make "discernible progress" on the city's urban-blight problem by finally taking advantage of federal funds that have been available for the past two years.
Hogsett pledged to use federal Hardest Hit Funds, which the city announced with great fanfare in September 2014, to demolish about 336 properties by the end of 2017, when the money is set to expire.
"Change takes time, but for far too many residents in far too many neighborhoods, they have been waiting for that change for far too long," Hogsett said. "We stand here today with a renewed commitment to fight against the status quo of indecision. … Almost two years later, many of these abandoned homes, including this one, remain just as they are and just as they were."
Minutes later, the claw of an excavator started in on the white, two-story house at 253 N. Oxford St., which had broken windows, a boarded up front door and noticeable graffiti inside. Community activists, city officials and reporters watched as dust filled the air when it came tumbling down from across the street.
City officials identified about 3,200 properties earlier this year that they consider "chronically vacant." Hogsett, who took office in January, stressed that the city was being thoughtful about its abandoned housing problem and didn't want to take a "one-size-fits-all" approach.
Last year, IBJ reported that the city didn't seem to be making progress on using the money. And some local politicians blamed a lame-duck mayor for not doing more with the funds. During the 2015 mayoral race, both candidates said the issue was important for them to fix.
The city so far has addressed 99 properties using the funds and that it still has about $3 million to work with. The original federal grant the city received was for more than $6 million, but some of that is earmarked for other purposes. Jeff Bennett, the deputy mayor for community development, said it costs anywhere between $10,000 and $25,000 to tear down a house and turn the lot into green space.
"It is unacceptable to tear down homes that could benefit from rehabilitation, but it's also unacceptable to leave properties in limbo, allowing them to fall further into disrepair, and creating neighborhoods that are frustrated and communities that are stalled," Hogsett said.
Hogsett pointed to plans to demolish Shelton Heights, a "longstanding eyesore" of an abandoned trailer park community on the west side, as a further sign of progress. The city also so far this year has used local funds to demolish 14 buildings, and it has 50 more buildings in that program.
The city in July started a "problem properties" work group, which will put together a list of the "worst of the worst" properties, and then it will begin "testing the city's unused enforcement tools" on those properties. Those include different kinds of receivership, and a program where the city can use its own money to bring properties up to code.
"Together we can work to prevent homes from ever falling into this sort of disrepair," Hogsett said.
Once a property is torn down, the city can sell the property for a low cost to a community development group to build on it and get the property back on tax rolls.
There aren't any current plans to redevelop the white house torn down Monday. It will become green space.
Joe Bowling, director of the Englewood Community Development Corporation, touted recent nearby successes that lead him to believe there is a good future ahead for similar properties.
Down the block, a $2 million, 15-unit development is being built on three vacant properties, and a white duplex just down the street from 253 N. Oxford St. will be demolished and replaced with a $300,000 four-unit apartment building.
"This is a real exciting time for our neighborhood," Bowling said. "This was one of those problem properties. We don't like to see properties demolished but this was the only intervention that made sense at this point (for 253 N. Oxford). It's addition by subtraction."
 
Please enable JavaScript to view this content.