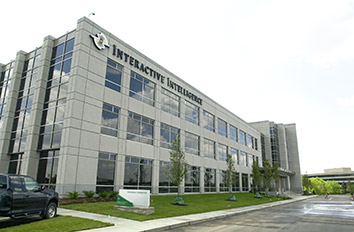 Genesys Telecommunications Laboratories Inc., the maker of call-center software, is in early talks to acquire Indianapolis-based competitor Interactive Intelligence Group Inc., people with knowledge of the matter said.
Genesys, which received a $900 million investment last month from private equity firm Hellman & Friedman, is looking to use the recent infusion to expand its business, said the people, who asked not to be identified because the discussions are private. The company also is considering acquiring Avaya Inc.'s call centers, one of the people said.
Daly City, California-based Genesys hasn't reached an agreement with either company and a deal isn't imminent, the people said. Reuters reported last week that Genesys is in talks to buy Avaya's call-center business.
Reuters said last month that Interactive Intelligence hired Union Square Advisors as a strategic investment firm. CEO Donald Brown declined to comment on that story on Aug. 1.
Interactive Intelligence, which has a market value of about $1.3 billion, is a global provider of cloud-based software for call centers. The company reported sales of $109 million for the second quarter, up 13 percent from the year-earlier period, driven by cloud subscription revenue.
The Indianapolis-based company's stock has gained 85 percent this year on acquisition speculation and increased sales. Genesys is closely held by a group of investors, including H&F, Permira Advisers and Technology Crossover Ventures.
A representative for Interactive Intelligence declined to address the report, saying the company "doesn't comment on rumors or speculation."
A representative of Genesys declined to comment, as did a representative of Permira. Spokespeople for Avaya and Hellman & Friedman didn't immediately respond to requests for comment.
Shares of Interactive Intelligence were essentially unchanged in trading Tuesday, down 5 cents to $58 per share by early afternoon
Please enable JavaScript to view this content.