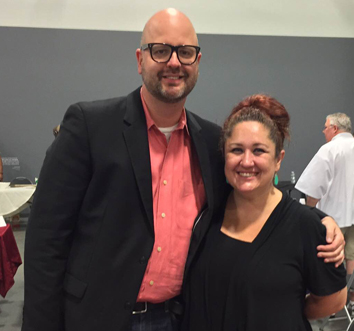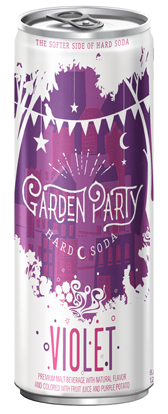 Violet is one of two debut flavors for Garden Party. (Image courtesy Erin Edds)
Indianapolis entrepreneur Erin Edds, co-founder and former co-owner of Bloody Mary mix maker Hoosier Momma LLC, is hoping to make a boozy splash with a new company called Garden Party Botanical Hard Sodas.
The company, which Edds owns with her husband, Stephen Edds, expects to have its product available for sale in grocery stores, restaurants and bars around Indiana in October.
Garden Party will start with two flavors: Violet, a lemon soda with lavender and blackberry; and Ruby, a ginger soda with hibiscus and pomegranate. Their alcohol content will be 8 percent.
"Like we did with Hoosier Momma, I'm expecting that this is going to get some national attention early on," Edds said.
Hoosier Momma was founded January 2010. Eighteen months later, the product was being sold in 350 locations in six states. Edds exited the company in December 2014, following a legal battle with co-owners Kimberly Cranfill and Catherine Hill.
After her exit, Edds said, she and her husband were contemplating other startup ideas. Last spring, after observing that hard sodas were growing in popularity, they decided to build a business around the trend.
Hard sodas are alcoholic drinks in soda-pop flavors like root beer, orange cream and ginger ale.
Within the past year, several major brewing companies have jumped into the emerging category, which had estimated sales of $116 million in 2015. Popular brand Not Your Father's Root Beer accounted for $92 million.
Anheuser Busch Cos. LLC launched its Best Damn Brewing Co. in December 2015, and that line now sells three flavors of hard soda. MillerCoors launched its line of hard sodas, branded as Henry's Hard Soda, in January 2016. And Coney Island Brewing Co., owned by the Boston Beer Co. of Samuel Adams fame, also produces a line of hard sodas.
Indianapolis-based Monarch Beverage Co. will handle distribution of Garden Party beverages, which initially will be limited to Indiana.
Edds said she and her husband will also be hitting the road to visit "key accounts" around the state, including Evansville, Muncie and West Lafayette.
Stephen Edds spent four years as Hoosier Momma's sales manager, Erin Edds said, and those contacts should prove helpful in growing Garden Party.
"One of the lessons that I really took away from my experience with Hoosier Momma is that we couldn't just rely on the distributors. They have a portfolio of products to sell, and we can't expect to be everyone's top priority," Edds said.
Based on focus-group testing, Edds said Garden Party's target audience includes age-21-and-older college students, along with women.
Young consumers in general, Edds said, "tend to be a lot more interested in finding what's the next new thing."
"It only takes one person to bring a four-pack when they come home for Thanksgiving to introduce it to a whole new audience," Edds said.
In 2017, Garden Party will start focusing on expanding into neighboring states, Edds said.
Garden Party used Wild Flavors Inc. in Erlanger, Kentucky, to develop its flavorings. In addition to the Violet and Ruby flavors, Garden Party has two other flavors it intends to launch later on.
BevSource, a St. Paul, Minnesota, company, is handling Garden Party's logistics management, including compliance and regulatory issues and manufacturing contracts.
City Brewing in Memphis, Tennessee, will actually make the product.
Edds said she liked City Brewing because it has the capacity to handle larger orders over time.
"As we grow regionally and then nationally, we won't have to worry about working with somebody who can meet the demands," she said.
Garden Party is the doing-business-as name for Rumstech Ventures Inc., which the couple formed last year. Their startup costs so far have been about $25,000.
In a public disclosure filed this week, Rumstech revealed that it is in the midst of a $100,000 fundraising offering and has already raised $47,500 of that total from investors.
Edds said Garden Party can proceed with its plans even if it doesn't raise the total amount.
"If we don't raise another dime we're good until launch [in October]," Edds said.
"I would like to hit that $100,000, but nothing's dependent on it."
 
Please enable JavaScript to view this content.