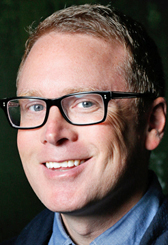 Michael Rubino
Michael Rubino, former senior editor for Indianapolis Monthly, has been named editor-in-chief after the departure of Amanda Heckert, who had run the city magazine since 2012.
Heckert will be moving to Charleston, South Carolina, to serve as deputy editor of Garden and Gun magazine.
A Wabash University graduate with a master's from Indiana University in Bloomington, Rubino, 45, joined Indianapolis Monthly in 2007, only to be caught in a round of layoffs two years later.
"I didn't go out with a gasoline can and a match," he quipped.
Instead of burning bridges, he continued his relationship with the publication as a freelancer, taught college journalism at IU, IUPUI and Butler University, and ghostwrote a cookbook with celebrity chef Steve Martorano.
He was brought back to the Indianapolis Monthly staff by Heckert in 2014.
"I think I was rewarded for loyalty and good work," he said
Heckert praised Rubino as a dogged editor and great reporter who "has a gut reaction for what makes a great story."
Rubino started in his new position on Monday.
As to putting his own stamp on the nearly 40-year-old publication, Rubino said, "Amanda left the publication in really good shape. … I wouldn't expect wholesale changes, I love the direction we were going and I intend to continue that."
A South Carolina native, Heckert said she's excited to get back to telling stories about Southern culture.
Rubino believes Heckert's new gig is a perfect fit for his former boss.
"It's a great magazine," he said, adding, "She has a garden. I know she doesn't have a gun."
 
Please enable JavaScript to view this content.