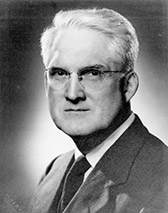 Goodrich regarded a decentralized society as the most fertile soil in which human beings could hope to thrive. (Photo courtesy of the Liberty Fund Inc.)
Though a wealthy and powerful man, Pierre Goodrich loved nothing more than books and the insights they contained. So great was his belief in their power to enrich human life that he dedicated the bulk of his fortune to promoting the reading and discussion of great ideas.

Goodrich's father, James, was elected Indiana's governor in 1916. He was an entrepreneur who made a fortune in utilities. He augmented his fortune by divesting his interests shortly before the Depression and re-entering the market when shares were selling for pennies on the dollar.

Pierre (pronounced "Pier") was born in Winchester in 1894 and attended Wabash College and Harvard Law School. Particularly at Wabash, he acquired a deep love of ideas and philosophical conversation that persisted throughout his life.

Goodrich eventually took over his father's business interests, including the Indiana Telephone Co., Peoples Loan and Trust, Central Newspapers (which held the Indianapolis Star), and the Ayrshire Collieries Corp., a coal-mining firm.

He also served on the boards of many not-for-profits, including Wabash College, where he strongly advocated for a "Great Books" curriculum. It was there in 1957 that he built the Goodrich Seminar Room, a veritable shrine to great books and ideas.

Goodrich believed "habits of mind, rather than mere information, count largest in the long run." He sought to cultivate such habits through the sustained exploration of a few great ideas, as opposed to the "superficial pursuit of many studies."

His favorite idea was liberty. He was interested in all its dimensions—intellectual and religious as well economic and political. He regarded a decentralized society as the most fertile soil in which human beings could hope to thrive.

Goodrich knew that a society could be no better than the ideas circulating through it. One of the most pressing concerns of this or any age, he held, is to promote probing discussions of essential ideas. Among such ideas he counted the liberty required for truly free and open conversation.

Goodrich's dedication to liberty was grounded in his high estimation of human fallibility. With his friend, Nobel laureate in economics Friedrich Hayek, he regarded human knowledge as inevitably limited, imposing strict limits on anyone's ability even to know— let alone act on behalf of—another.

He did not see liberty as an option, something people merely desire. He saw it as an absolute necessity, without which no one could develop fully and make important contributions to society.

When Goodrich died in 1973, he left behind one of the largest fortunes in Indiana. His deep faith in liberty led him to dedicate much of his wealth to the founding of Liberty Fund, an Indianapolis-based operating foundation that promotes the ideal of a society of free and responsible individuals.

Today, Liberty Fund is continuing Goodrich's legacy by building, at 106th and Meridian streets, a headquarters that will house the organization's 50,000-volume library. There, it will continue publishing about 20 books and coordinating more than 150 conferences each year, all revolving around liberty.

Goodrich's love of ideas is embodied in the format of each Liberty Fund conference. For three days, 15 people gather around a table to discuss a great text. A discussion leader ensures order, but the conversation proceeds freely, toward no preconceived conclusion.

Though Goodrich did not know where such conversations would lead, he was confident they would do more than anything to promote the development of people capable of conceiving and acting on good ideas.•

__________

Hoosier Beacons pays tribute to Indiana's bicentennial by telling the stories of famous Hoosiers. It appears every other week. Gunderman is chancellor's professor at Indiana University.