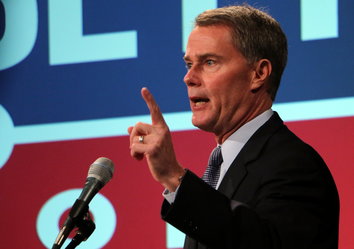 Mayor Joe Hogsett's first crack at drawing up Indianapolis' budget plan is to spend 1 percent less on city services in 2017 than last year—and reduce the city's structural deficit to $23.8 million.
Hogsett, who visited the Indianapolis City-County Council on Monday night to formally present his spending plan, said his proposed $1.09 billion budget for 2017 is the first step to making "fiscal responsibility a fiscal reality." Each department budget now will be debated in various council committees. The overall budget is slated for final adoption in mid-October.
Former Republican Mayor Greg Ballard's final budget for 2016 ended up coming out at $1.1 billion, and Hogsett's 2017 budget proposal aims to spend $12.7 million less.
Administrative and executive spending under Hogsett's 2017 plan would be decreased $5 million from last year, from $91 million to $86 million. And the city would also spend less on other public services, debt services and pension obligations.
"It isn't just about reducing spending," Hogsett said. "It's about ensuring that we are still able to do more with less on behalf of the taxpayers. … I've had many people suggest to me that eliminating waste and inefficiency has just become a trite political phrase. … They are wrong. That's taking the easy way out. it will not be easy. Together we can restore faith in city government."
Hogsett also announced a longer-term plan to "smart-size" city government to reduce the administrative bloat and tackle city employee benefits reform, which he believes would "save millions" by changing the plans for new employees.
The 2017 budget plan would spend $8 million more—from $405 million to $413 million—on public safety services, and $11 million more on criminal justice services, taking that budget from $241 million to $252 million. The budget funds two police recruit classes that would add 86 new officers, a new computer-aided dispatch system, and two new fire stations.
The budget also provides for $5 million in parks funding, new solid waste trucks, and new voting machines.
Hogsett also announced a four-year, $200 million infrastructure plan that would fund infrastructure projects at $50 million per year in the budget. That addresses the 50 "worst of the worst" streets in the city, according to a budget memo distributed to reporters.
The proposed budget relies on $1.07 billion in revenues, which is just a slight $2 million uptick in revenue from what the city expected last year. That factors in a $13.7 million increase in tax revenue, a loss of $17 million in federal money, and about $6 million in combined increases from licenses, permits and other charges for services.
The budget addresses what City Controller Fady Qaddoura says is a $50 million average structural budget deficit that has existed since 2008 by reducing it gradually. City officials say the budget plan "reduces reliance on reserves" by $18 million, and restores the city's "fiscal stability fund" to $79.2 million. Helping matters would be a $13 million special disbursement of cash from income tax reserves that was returned to the state this year.
The goal is to "completely eliminate the structural deficit" in three years, Qaddoura said. He said he is working to help city departments reduce spending and re-prioritize their budgets. The city historically has funded budgets through one-time bursts of cash, such as selling off city assets like the parking meters and the water and wastewater utilities.
"You cannot throw money at problem if you're not addressing the underlying root cause," Qaddoura said.
Qaddoura said the budget proposed Monday wasn't presented in a vacuum. He said it is about a longer-term plan to reduce the structural budget deficit. That will include measures to reduce spending in future years.
Hogsett's goal to "smart-size" city government will reduce the workforce through attrition. There are about 8,000 people who work for city government, according to Hogsett's chief of staff, Thomas Cook, and the city experiences between 20 percent to 25 percent turnover each year. The goal would be to not automatically backfill those positions, he said.
The benefits reform initiative announced Monday wouldn't kick in until 2017 and only applies to new employees. The basic premise would be to utilize a relatively new state law that allows employees to vest much earlier in their pensions, while having the city contribute less to the plan overall.
Though the council will more thoroughly vet and go through the budget at a series of committee meetings now through October, the initial reception was positive on both sides of the aisle.
"We are making the first strides to right-size the budget," said Council Vice President Zach Adamson, a Democrat. "This is not going to be a fun process for anybody, but living within your means is never fun."
Colleen Fanning, a Republican council member, said she thinks Hogsett's budget is ambitious, and she applauded his attempt to eventually cut down on city personnel and reduce government spending. But she said she is concerned that the transportation funding package doesn't do enough to address the city's needs.
"I just don't believe $50 million a year is going to be even close to what we need to address our very major infrastructure needs," Fanning said. "I'm worried we're going to fall further and further behind unless we attack this."
Jeff Miller, another Republican, said from what he knows about the budget, he likes it.
"Now comes the intense analysis," Miller said. "But I think it sounded appropriate as presented tonight."
Please enable JavaScript to view this content.