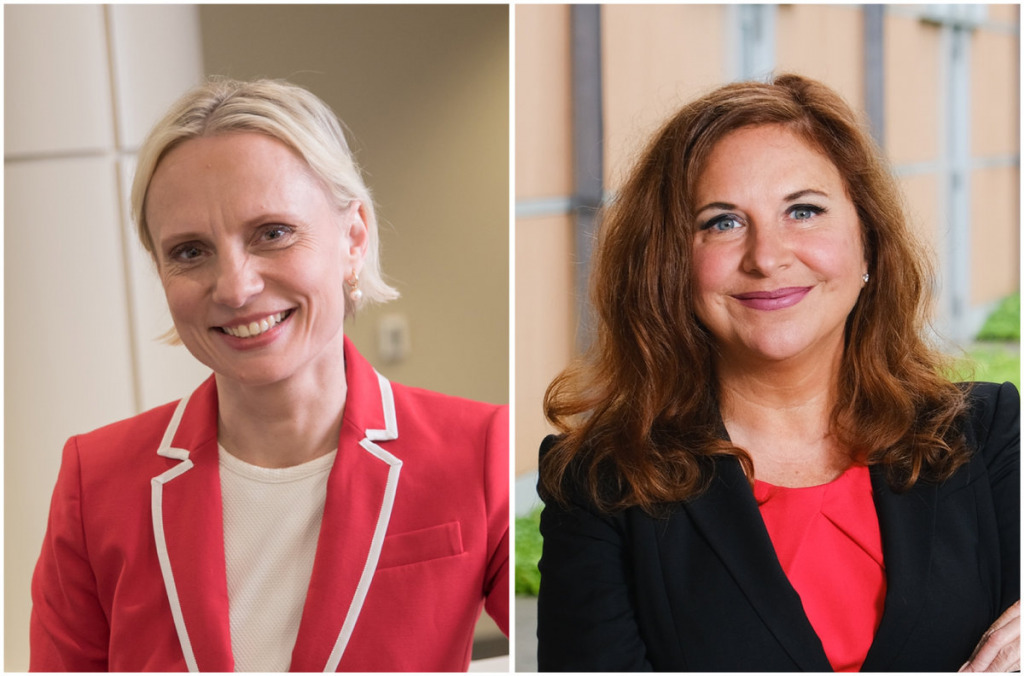 In the first general election debate in Indiana's hotly contested 5th Congressional District, the candidates traded attacks and drew clear distinctions between each other's policy positions.
The debate on Tuesday night between Democratic candidate Christina Hale and Republican candidate Victoria Spartz, was hosted by Indiana Town Halls and WFYI Productions and moderated by former political reporter Jim Shella.
The candidates were in a studio together, and the debate aired live, but no audience was present because of pandemic restrictions.
The candidates are hoping to replace outgoing Republican U.S. Rep. Susan Brooks, and the race is among the most-watched in the country. The district includes northern Marion County and all of Hamilton County, along with either all of or parts of Boone, Madison, Tipton, Grant, Howard and Blackford counties.
Both candidates said health care would be their top priority, if elected, but that was one of the rare moments of agreement during the hour-long discussion.
Spartz, a first-term state senator, said the Affordable Care Act isn't working for people, and she believes there needs to be more transparency in health care prices. She also said she thinks health coverage is something that states can handle better than the federal government.
Hale, a former state representative and 2016 lieutenant governor candidate, said she supports keeping the ACA and improving it, or at least having some type of public health insurance option available.
"And, if you have private health insurance, I'll fight to help you keep it and hopefully make it more affordable," Hale said.
Hale also mentioned the need to continue having protections in place for those with preexisting conditions and accused Spartz of wanting to repeal that safeguard.
But Spartz pointed to her vote in support of the state's most recent budget, which passed in 2019 and included a provision that protects coverage for individuals with preexisting conditions, regardless of the ACA.
Hale said she thinks health care and the economic impact of the COVID-19 pandemic is the biggest threat to the country today, while Spartz said she thinks it's big government and people not being able to achieve the American dream.
"People get very frustrated because politicians don't ever deliver results," Spartz said. "We have too many people in politics that look for a job. I'm not looking for a job. I have a lot of jobs."
During the debate, Spartz often talked about the government being broken and too big. She frequently accused Hale of not backing up her words with actions and tried to connect her to U.S. House Speaker Nancy Pelosi.
Hale was named to the Democratic Congressional Campaign Committee's Red to Blue program in January and has received a total of $9,000 in support from Pelosi's campaign fund and the House Majority PAC.
Spartz said Hale, who won a five-way primary in June, was handpicked by Pelosi for the seat.
The National Republican Congressional Committee also has been involved in the race. Three of the fifteen GOP primary candidates—Kelly Mitchell, Beth Henderson and Chuck Dietzen—were named to its Young Guns Program in the spring. Spartz won the primary.
"I wasn't chosen by the party establishment as Christina was," Spartz said.
But prior to the June primary election, Spartz had never run in a traditional election. She was elected in a Republican caucus to her state Senate seat.
And the Majority Committee—U.S. House Minority Leader Kevin McCarthy's leadership PAC—has donated $10,000 to Spartz.
Hale occasionally attacked Spartz throughout the debate, but mostly tried to emphasize her own record from her two terms as a state lawmaker, calling it bipartisan and repeatedly mentioned passing 60 bills. But in almost all of those cases, she was a co-author or co-sponsor, meaning she wasn't the primary driver of the legislation. That's not unusual for a lawmaker who served in the minority party throughout her legislative career.
The candidates were also asked about the Black Lives Matter movement and criminal justice reform.
Spartz said she supports an individual's right to protest, but "there is a difference between peaceful protest and destroying people's property."
Hale said "rioting is never OK," but people have the right to protest.
Hale said she thinks all police officers should have body cameras—and credited Republican Gov. Eric Holcomb for his recent announcement that state police will have body cameras by spring 2021. She also said she thinks chokeholds should be banned and there should be an end to no-knock entries for drug offenses.
Spartz said police officers should have cameras and proper training. She also thinks the criminal justice system needs to help give people second chances.
When asked whether they believed there is racism in America, Spartz said she didn't think former President Barack Obama would have been elected if the U.S. was a racist country.
"We don't have a systemic issue," Spartz said. "We have some people that are terrible. You always do. You always have bad apples."
Hale described racism as "a tremendous problem" in the U.S. and pointed to statistics such as the rates of incarceration for Black males and high school graduation rates among minorities.
"We can just see there's so much work to be done," Hale said.
The candidates were also asked about the possibility of expanding the number of justices on the U.S. Supreme Court, which is an idea some Democrats have mentioned as a possibility if the U.S. Senate confirms President Donald Trump's nomination to replace Justice Ruth Bader Ginsburg, who died Friday.
But neither candidate offered a straight answer. Hale said it would be something she would need to think about, and Spartz talked about how she thinks the Senate would be doing its job by confirming Trump's pick.
The candidates will meet again next week for a debate hosted by the Hamilton County League of Women Voters, but the virtual discussion will not be aired live.
Please enable JavaScript to view this content.