It was a breathtaking run-up while it lasted.

From 2006 to 2013, CountryMark Cooperative Holding Corp. watched its revenue nearly double, to $1.7 billion. To keep up with demand, the Indianapolis-based oil refiner added more than 200 workers and spent tens of millions of dollars to upgrade its refinery west of Evansville and its network of pipelines and bulk terminals around the state.

But these days, the ride is going in the other direction.

A plunge in oil prices has cut revenue 40 percent in the last two years, and the company has eliminated about 25 jobs, 2 percent of its workforce, in recent months.

"We are a commodity business," said Charlie Smith, CEO since 2003. "And we go through cycles, like all commodities do."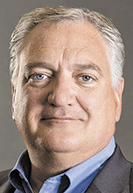 Smith
This cycle is shaping up to be one of the deepest downturns for the oil industry in two decades, causing major refiners like BP, Chevron and Royal Dutch Shell to idle drilling rigs and cut thousands of jobs.

CountryMark, an agricultural cooperative that collects and refines crude oil from southern Indiana, southern Illinois and western Kentucky, is feeling the financial pressure and keeping a close eye on costs.

In the past two years, it has cut by half the amount it spends drilling oil wells, a figure that once reached $30 million a year. With fewer new oil wells to drill, the company has trimmed field staff. And it has shifted its strategy from expensive, long-term exploration to shorter-turnaround projects, such as smaller oil fields.

"That was a strategic shift from kind of elephant hunting for big oil fields to settling for smaller successes," Smith said.

It's been a dizzying change from just two years ago, when the company was ringing up sales of $1.7 billion in gasoline and diesel fuel.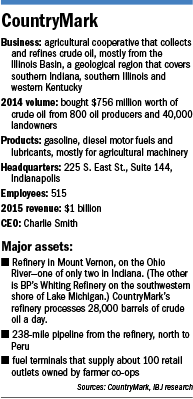 In 2015, CountryMark was the fourth-largest private company in Indiana, behind only hardware company Do it Best Corp., product wholesaler Petroleum Traders Corp. and logistics investor LDI Ltd. But after revenue slumped to $1 billion in 2015, it slid to 10th.

CountryMark operates one of only two oil refineries in Indiana, a midsize facility in Mount Vernon, along the Ohio River, that processes 28,000 barrels of crude a day, brought in by trucks and pipeline.

The other refiner is BP's Whiting Refinery on the southwestern shore of Lake Michigan. That huge operation can process 430,000 barrels a day, more than 15 times the amount of CountryMark.

But unlike BP, CountryMark never intended to be a global powerhouse. Despite its billion dollars in revenue, it presents itself as a midsize operator that buys and sells in the region.

The company boasts on its website of refining "only 100 percent American crude oil," mostly from the Illinois basin, a geological region of Indiana, Illinois and Kentucky that includes 22,000 oil wells producing more than 12 million barrels of oil a year.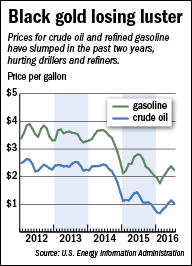 Last year, CountryMark bought $380 million in Illinois Basin crude from 800 producers and 40,000 mineral-rights owners. That was down by half from the year before, when it bought $756 million in crude.

The company is owned and controlled by farm cooperatives around the state, and does not disclose profit, assets or liabilities.

Customers include more than two-thirds of Indiana's farmers and about half the state's school buses, which buy gasoline and diesel from more than 100 retailers.

The collapse in oil markets doubtlessly makes customers happy, as they fill up with $2-a-gallon gasoline. But it is causing strain on CountryMark and other refiners, who are watching revenue and profits shrink.

For the world's six largest oil companies, refining profit fell by more than half during the first quarter of 2016, according to S&P Global Market Intelligence. In turn, they have chopped jobs with a vengeance. BP plans to cut 4,000 jobs in exploration and production this year, on top of 4,000 cuts last year. Royal Dutch Shell cut 7,500 jobs last year.


Indianapolis-based oil refiner Calumet Specialty Products Partners LP reported a loss of $148 million in the second quarter, mostly due to its divestiture of a money-losing refinery in North Dakota. The company, which aggressively expanded immediately before the downturn, has seen its stock price fall 91 percent over the last three years.

Most of Indiana's oil operators are mom-and-pop outfits, with fewer than 10 employees, that specialize in drilling for oil or servicing the industry.

"They're just hanging on, surviving by the fact that they don't have any big overhead to support," said Jeff Hoy, an independent consultant in Evansville and president of the Indiana Oil and Gas Association.

CountryMark said its situation is made a little better by the fact that it has no debt, so it doesn't have banks pressuring it to cough up loan payments, unlike many large refiners.

"Most companies, but not CountryMark, borrowed tremendous sums of money to pursue a dream of $80-, $90-, $100-a-barrel oil," Smith said. "We've been very conservative in our approach and that has served us well as the industry turned down."

The dream of $80 or $100 for a barrel now seems far-fetched, if not outright laughable. Crude oil last hit $100 a barrel in the summer of 2014, and has been in a slump ever since, hitting a low of about $31 in January. The spot price for crude now is about $43 a barrel.

The problem, economists say, is that the United States has nearly doubled production in the last few years, while demand has lagged, due to more fuel-efficient vehicles and a slow economic recovery.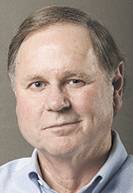 Tyner
"We have more refining capacity than demand," said Wally Tyner, professor of agricultural economics at Purdue University. "So we're exporting gasoline, and we've been exporting diesel for years. … I'm not expecting substantial increases in crude oil prices in the near term."

That's not to say CountryMark is folding up shop. The company continues to invest millions of dollars a year on refinery upgrades and other projects. It recently acquired the right-of-way to build a 20-mile pipeline to connect its grid to one in south-central Illinois, a project costing $40 million. It is continuing to hire, in small numbers, at its refinery, even as it sheds jobs elsewhere.

And even though prices and revenue are falling, volumes remain brisk at its five petroleum terminals, where semis pull up to get fuel and haul it to retail sites.

"I think it's good that a small refinery like ours has lasted 75 years," Smith said. "It's been up and down and up and down. … We'll get through this down cycle like we have all previous ones."•