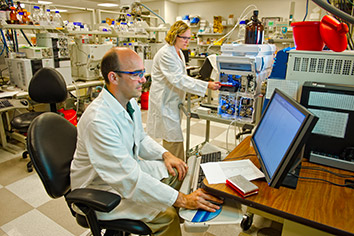 Eli Lilly and Co. said Monday that an Alzheimer's drug that it's developing with fellow pharmaceutical firm AstraZeneca has received an extra push from the FDA to expedite development and review in its Fast Track program.
Named AZD3293, the drug belongs to a novel class of drugs called BACE inhibitors that block production of amyloid, a protein that causes plaque to build up in the brain of Alzheimer's patients. Indianapolis-based Lilly agreed in 2014 to pay AstraZeneca as much as $500 million to jointly develop the drug.
The FDA's Fast Track program is designed for drugs that treat serious or life-threatening diseases for which there are few other therapies. Due to the current lack of lasting therapies, Alzheimer's drugs are considered a potential goldmine by pharmaceutical firms.
"We are pleased the FDA places a high priority on the development of drugs that target Alzheimer's disease, one of the most critical health issues of our time," said Phyllis Ferrell, vice president and global development leader for Alzheimer's disease at Lilly. "Most importantly, this is a positive step forward for the millions of patients, families, caregivers, advocates and healthcare providers who fight every day for progress."
"BACE inhibitors have the potential to transform the treatment of Alzheimer's disease, one of the biggest challenges facing medical science today, "said Craig Shering, AZD3293 project lead in global medicines development at AstraZeneca.
Under the agreement between the drugmakers, Lilly will lead clinical development with researchers from AstraZeneca, which will be responsible for manufacturing. They'll share all future costs for commercialization, as well as net global; revenues after launch.
Shares of Eli Lilly and Co. were up 1 percent to $79.80 in mid-morning trading Monday. AstraZeneca shares rose 1.2 percent to $33.99.
 
Please enable JavaScript to view this content.