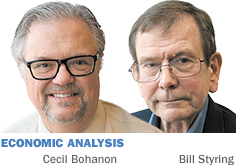 Gross domestic product is the total goods and services produced by the U.S. economy. It's a marvelous tool for measuring all sorts of interesting things. Change in "real" (adjusted for inflation) GDP tells us how fast the economy is growing. GDP per capita measures our living standard. Big GDP increases are political gold for the party in power.
Unfortunately, economists invented GDP, then left it lying around for politicians to misuse and mangle to justify whatever they want to do!
GDP is the sum of personal consumption (C), business investment (I) and government spending on goods and services (G). To this we add net exports (exports minus imports, or X – M). The shorthand equation taught to every first-year macroeconomics student: GDP = C + I + G + (X – M). Anything that increases C or I or G, or increases X or reduces M increases GDP.
A clever politician can—and many do—rationalize almost anything as boosting economic growth. Build a Bridge to Nowhere? G goes up, so GDP goes up! Lengthen the period for unemployment compensation from six months to two years? Those checks boost consumption (C), and GDP goes up! Build a tariff wall around the United States? Taxing anything, in this case imports, reduces the amount, so M goes down and GDP goes up! Huge subsidies for Solyndra? Investment in solar power (I) goes up, so GDP goes up!
Note that, in the real world, political supporters of each of these government actions actually did use the economic-growth argument to justify their pet projects.
You're probably thinking, "Wait a second! There's a rat here somewhere. Useless infrastructure projects, paying people not to work, making imported things we buy more expensive—none of these make us better off! What's wrong?"
What's wrong is that government actions lack a market test. We can be pretty sure that, if a new Chrysler sells for $35,000, it is worth at least that much to the person who bought it. However, a government-financed foot bridge to nowhere that cost $35,000 counts as $35,000 in GDP even if no one ever uses it. So next time you hear a politico wax eloquent about how his or her whiz-bang program will do wonders for the economy, swallow three grains of salt.•
__________
Bohanon is a professor of economics at Ball State University. Styring is an economist and independent researcher. Both also blog at INforefront.com. Send comments to ibjedit@ibj.com. 
Please enable JavaScript to view this content.