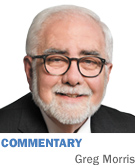 Through the year, Indianapolis Business Journal hosts a series of high-profile events ranging in attendance from 300 to more than 600. Already this year, IBJ has presented eight events and six more are coming—with a possible seventh on the drawing board.
Here's the lineup through December:
Power Breakfast—Commercial Real Estate and Construction, 8 a.m., Sept. 16, Indianapolis Marriott Downtown. A panel of six real estate professionals will address questions such as:
• How much of a lift will downtown's office market get from the Salesforce expansion?
• What's the outlook for downtown's burgeoning apartment market?
• What large construction projects are expected to drive the market in 2017?
• Developments are being built or planned all along Massachusetts Avenue. Is there demand to support them all?
Power Breakfast—Health Care & Benefits, 8 a.m., Sept. 29, Indianapolis Marriott Downtown. A panel of six health care professionals will address questions such as:
• How big an impact will Indiana's new telemedicine law have on the way doctors provide care?
• Health insurers are having trouble making money on the Obamacare exchanges. Is that just an early glitch or a long-term problem?
• What are some of the big trends to watch the remainder of this year and into 2017?
IBJ and Interactive Intelligence present—Reimagine the Future: How Technology is Shaping Businesses. Networking, 7:30 a.m., program, 8 a.m., Oct. 12, JW Marriott.
Interactive Intelligence founder Don Brown will be center stage. He plans to talk about many topics, including the history of artificial intelligence and the many ways it's being applied across the business world. Examples include speech recognition, virtual assistants (Siri and the like), self-driving cars, purchase prediction, fraud detection, chat bots and security surveillance. Brown should then cover where he thinks this technology is taking us and the implications for business and science.
With the recent news that Interactive Intelligence has agreed to be acquired by California-based Genesys for $1.4 billion, I'm confident attendees will hear some additional details about this exciting transaction and the future for this collaborative venture. The deal is the second-largest tech-company sale in Indiana history, topped only by ExactTarget's sale to Salesforce in 2013.
IBJ and Fifth Third Bank present 2017 Economic Forecast: Update & Outlook—Economy, Business and Markets, 8 a.m., Oct. 28, Indianapolis Marriott Downtown. Again this year, Fifth Third Bank Chief Investment Strategist Jeff Korzenik will offer his analysis of the upcoming year. Get answers to these and other questions on your mind:
• How will the U.S. labor market affect the economy in 2017?
• What is the global economic outlook and how will it affect the U.S. economy?
• What risks and opportunities lie ahead in the coming years?
Tenth anniversary of Women of Influence, 8 a.m., Nov. 3, Indiana Roof Ballroom.
IBJ will once again spotlight some of our city's most successful businesswomen from the public and private sectors while revealing the triumphs and challenges that have shaped their careers. Patachou Inc. President Martha Hoover will be the speaker. Attendees should expect a few surprises to help commemorate the event's 10th anniversary.
CFO of the Year awards, 8 a.m., Dec. 1, Indianapolis Marriott Downtown.
CFOs are a critical part of management teams and are intimately involved in developing short- and long-term strategy. IBJ launched this awards program in 2008 to recognize the enormously important work done by CFOs, who are seldom celebrated for their contributions.
There's still time to nominate a CFO before the Sept. 23 deadline at ibj.com. Calling all CEOs: Please nominate your CFO. Previous top honorees are not eligible for nomination, but previous finalists may be renominated.
So, be sure to take advantage of great networking opportunities and extend your knowledge of local business news and information by attending upcoming IBJ events. Register online at ibj.com and click on the events tab. As always, thanks for reading and supporting IBJ.•
__________
Morris is publisher of IBJ. His column appears every other week. To comment on this column, send email to gmorris@ibj.com.
Please enable JavaScript to view this content.