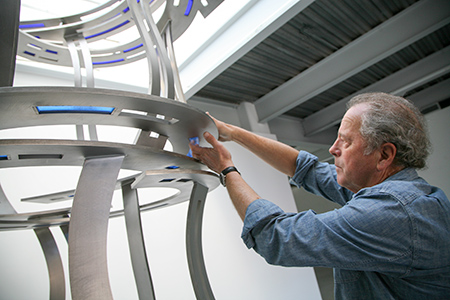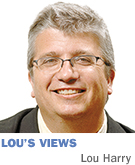 In the late 2000s, Indianapolis was privy to a series of downtown art exhibitions, ending with an outstanding show of eight large-scale kinetic sculptures by Hoosier George Rickey.
While that program didn't continue, something similar is happening now, thanks to the Central Indiana Community Foundation, which is partnering with Indianapolis Cultural Trail Inc. to present "Don Gummer: Back Home Again" (through Aug. 7, 2017).
Gummer, who was born in Louisville but moved to Indianapolis at age 7, graduated from Ben Davis High School and attended Herron School of Art before moving on to a world-class sculpting career with works now in the collections of Chase Manhattan Bank, the Joseph E. Seagram Co., and as far away as the Hiroshima Lying-in Hospital. (Let's get this out of the way: He's married to Meryl Streep.)
Gummer is still rooted in Indy, not just because his family is still here, but also by virtue of his "The South Tower" and "Open Eyes," both at IUPUI, and "Southern Circle" at Madison Avenue and South Street.
Newcomers to his work might at first be struck by the ways they present strength even through their irregularity. Built from steel, bronze, aluminum and glass, they tend to grow larger the higher they get, most obviously with "Desert House," at Maryland Street and Capitol Avenue. What would seem precarious, though, is instead oddly anchored in Gummer's world. Both "After Rome" on Massachusetts and "Offspring," a bit dwarfed on Monument Circle, emphasize the space between their curvilinear strips.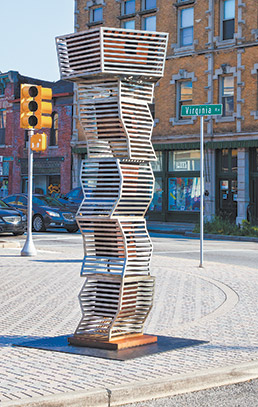 "Jack's Column" in Fountain Square is one of eight sculptures by Don Gummer along the Cultural Trail. (Photo/Hadley Fruits courtesy of Art Strategies LLC)
The exhibit wisely eschews explanatory text, inviting viewers to bring themselves to the pieces rather than come at them with a predetermined meaning. While it's difficult not to read a housing structure into "Intersection," at Washington and Delaware streets, it's unlikely anyone would get, without some guidance, its clever use of sculptural haiku (five elements at bottom, seven in the middle, and five on top). Knowing that a sibling's injury inspired "Jack's Column" only made me appreciate it more.
Placement certainly impacts interpretation with "Minuteman," near the entrance to the Eiteljorg Museum of American Indians and Western Art. Again, a curved base leads to what could, in this context, be read as an arrowhead or the beak of a bird of prey.
Also ideally parked is "Spanish Guitar." Set outside the Indiana Repertory Theatre, it physicalizes music and creativeenergy in a dynamic, compelling way. The curve of a guitar can't quite house the sharp corners of the fragments within, and it all seems to explode in a joyfully cryptic way.
Here's hoping the powers that be who selected the trivializing Seward Johnson jazz sculpture for a prominent spot at the Center for the Performing Arts give a look at what bold, original art can do to help define place.
And here's hoping that, like "Ann Dancing," the resources are found to make "Spanish Guitar" a permanent part of our city's landscape.•
__________
This column appears weekly. Send information on upcoming arts and entertainment events to lharry@ibj.com.
Please enable JavaScript to view this content.