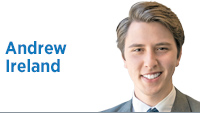 I recently had the pleasure of attending a local candidates' forum on disability and aging. Featuring community activists, candidates and state lawmakers from both sides of the aisle, the event was billed as an opportunity for stakeholders and lawmakers to learn from one another.
One question in particular caught my attention: "People with disabilities tend to vote Democrat because they seem to care about our respective issues; however, I'm open to changing my mind before November. What can Republicans in the Statehouse do to help our communities?"
To my dismay, the Republican lawmakers on stage largely punted. One noted the importance of listening to and knowing the communities they serve. Another said they would fight for additional funding for waiver programs. One mentioned life experiences that made them personally best fit to advocate on this topic.
Certainly, none of these points are invalid, but what struck me is that not one lawmaker could articulate how conservatives can assist individuals with disabilities. Picking up where they left off, I pulled together a few key points.
Conservatives have led the way on critical federal and state legislation designed to empower those once living in the shadows. From deinstitutionalization to civil rights, we have been at the forefront.
Free enterprise championed by conservatives is the sole means by which we can achieve greater prosperity. It allows even those who face great adversity to lead better, more meaningful lives. Limited-government policies help ensure this. It should be said, most academics will readily admit the positive correlation between charitable giving—including to institutions crucial to these communities—and growing individual incomes.
Conservatives have consistently stood for the civil rights of those with disabilities. The most prominent legislative success, the Americans with Disabilities Act, paved the way for greater access to community institutions, public services and gainful employment. A product of the George H.W. Bush White House, the president noted the bill would "let the shameful wall of exclusion finally come tumbling down." A well-received coverage expansion came about in President George W. Bush's final months.
On a more finite level, Sen. Rand Paul and others have sparked a bipartisan national discussion on criminal justice reform by highlighting the unjust jailing of those with intellectual disabilities. At the same time, House lawmakers are working on several proposals to overhaul the nation's mental health services in the lead-up to the November elections.
On the state level, lawmakers have vigorously worked to reform Medicaid to be more patient-centered. Gov. Mike Pence worked with the Obama administration to expand Medicaid funding in a way that empowers patients and families to make smart financial decisions through innovative practices, including health savings accounts. Further, the Legislature just this year passed the Able Act with overwhelming Republican support, leading the way for individuals with disabilities to contribute to a tax-exempt savings account that can be used for maintaining health, independence and quality of life. A final note: Conservative legislators took a great political risk this past session by barring discriminatory abortions based on disabilities.
None of this is to say these accomplishments were possible without the assistance of Democratic lawmakers. No doubt this is a field where both parties have made great strides in recent years and can continue to work in a bipartisan manner. However, it is conservatives who provide the best path forward.•
__________
Ireland is a college Republican at Indiana University. Send comments on this column to [email protected]
Please enable JavaScript to view this content.