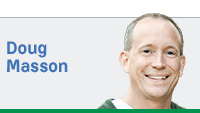 "Drugs!" my sister said to me, lips pursed, eyes open emphatically, head nodding in a sanctimonious manner. My sister has a gift for mockery, and she had nailed our great aunt's mannerisms with just enough exaggeration to make the statement ridiculous. We were teenagers, and the adults in the room were holding forth on the problem with kids these days (those days being the mid-'80s). I can't recall if "rock 'n' roll" was cited as a problem as well.
A few days ago, friends of mine were offering opinions on the work habits of millennials and, while they were talking, it was as if my sister, still 15, were standing behind them, head nodding in that sanctimonious, knowing manner saying, "Drugs!"
The kids are all right. It's nostalgia that's the problem. Never has there been a generation that looked at the younger generation and said, "Kids these days are smarter, more industrious, snappier dressers, and listen to better music." To hear adults of any era talk, humanity has been in decline ever since Eve got us thrown out of Eden.
And, yet, the human condition has improved more or less steadily (for Westerners, anyway) since the Enlightenment. The past, as they say, is a foreign country. Even more, the past as it is commonly remembered is about as real as Narnia.
A common complaint is how politics these days is unusually divisive. Never mind gunshots and fistfights in the 19th century General Assembly. Sometimes moral coarsening will be cited as the problem with kids these days. And yet, according to a 1956 report of the War History Department, during World War II, prostitution and venereal disease were major problems in Indiana. Selective Service doctors found syphilis in 34 out of every thousand Hoosiers they inspected.
An honest look at kids these days suggests they are probably doing a little better than we were. And we probably did a little better than our parents. And so forth. Violent crime rates in 2010 were one-third of the rates in 1994. Since at least the 1930s, average IQ scores have increased about 3 percent per year in the United States. Teen birth rates have been declining for at least 20 years. Teens generally smoke less, drink less and start having sex later than when I was a teen. Not everything is improving. Jobs are less secure and income inequality is higher. But overall, we have it pretty good.
If things are mostly getting better, why do we have the perception that things are getting worse? It is a persistent trend for about 60 percent to 70 percent of Americans to think the country is on the wrong track while, at the same time, about 80 percent of them are satisfied with their own lives. Media proliferation is probably a factor. We are exposed to bad news from all over the globe, but because evolution has not kept pace with technology, our brains still respond to that information with anxiety levels more appropriate to events taking place in close proximity.
So, if we uncritically accept news as presented and the past as remembered, we will have a negative view of the state of the world today. Unnecessarily fretting about the future can become toxic. We could all stand to be more mindful of which problems are real and try not to borrow trouble where it does not exist.•
__________
Masson is a Lafayette attorney, author of Masson's Blog and former counsel for the Legislative Services Agency. Send comments on this column to ibjedit@ibj.com.
Please enable JavaScript to view this content.