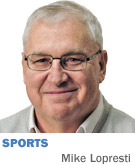 So the pro football season begins with, among other things, Colin Kaepernick quite possibly the most discussed backup quarterback in recent NFL history.

And our guys in blue? We have here the 53-man Colts roster for the opener against the Detroit Lions—the names, numbers, etc. You probably know those. But do you know answers to the following questions? Twenty things about 20 players unlikely to ever be found on any flip card.

Who graduated as a major in architectural design, picking up his diploma in the same commencement as golfer Michelle Wie?

OK, that's an easy one. Andrew Luck at Stanford. Luck has made way more money at his sport than Wie, but the guess is Wie has a more expensive cell phone.

Who was nicknamed "Goose" by his college teammates after scoring a big fat zero on the Madden NFL video game—as in goose egg?

Henry Anderson, whose indignity came at Stanford.

Who can say hello to you in four languages?

Darius Butler. Imagine the thrill of being able to trash talk wide receivers in Italian.

Who was the Rhodes Scholar candidate with a grade point average in biochemistry that was nearly as high as his time in the 40?

Anthony Castonzo. Asked for his media guide bio to name the one thing he couldn't live without—other Colts replied their cell phones or Netflix—he answered ... water. Science guy.

Who's the originator of a television show on outdoor life and hunting?

Trent Cole, who went into the season with a career haul of 53 different NFL quarterbacks sacked and one 500-pound bull shark caught.

Who would just die for a bison burger?

Vontae Davis. Or a bison steak. His view is that leaner meat will keep a cornerback sleeker than, say, a double Whopper with cheese will.

Who's the rugby player?

Jack Doyle. Lettered in the sport at Indianapolis Cathedral. So he was one of the few people in town who could explain to you what the heck was going on when NBC showed rugby at the Olympics.

Who is the sixth member of his family to play in the NFL?

Clayton Geathers. Between various cousins, an uncle and him, the Geathers clan could have their own team picture.

Who once said no to Mississippi as a college choice, even after a recruiting visit when his host was a guy named Eli Manning?

Frank Gore. A Coral Gables High School product who decided to go two miles down the road to the University of Miami, partly to stay close to his ailing mother. That trumped Eli.

Who learned how to play the French horn before he learned how to play football?

Jonotthan Harrison. Not a lot of guys in the world with that spelling of his first name. Not a lot of 300-pound French horn players, either.

Who comes from the same town as the man who founded the Boy Scouts of America?

Pat McAfee. Proud native son of Plum, Pennsylvania. Can you earn merit badges in punting?

Who came to the United States from Liberia as an infant to escape a civil war, then had a bullet whiz by his head as a teenager running with a rough crowd in Connecticut?

Sio Moore, who told the story to a New Haven newspaper.

Who started his college career as a walk-on, with virtually no FBS school willing to offer him a scholarship?

David Parry, another Stanford product. The Colts have so many of those, the complex on 56th Street could be called Palo Alto East.

Who, as we speak, is still third in career rebounds and fourth in career points in Western Michigan basketball history?

Joe Reitz, basketball stud from Hamilton Southeastern.

Who pinned a state record 143 opponents as a high school heavyweight wrestler?

Austin Blythe. And we're not talking cushy opposition, either. This was in Iowa, where the mat is holy ground. If there had been a movie called "Hawkeyes" rather than "Hoosiers," Jimmy Chitwood would have been doing a single-leg sweep on South Bend Central.

Who left college with a national championship and a master's degree in marketing?

Ryan Kelly from Alabama. Though using the words "Alabama" and "national championship" in the same sentence borders on the redundant.

Who led his college team his senior year in field goal percentage? And we don't mean the kind you kick.

Erik Swoope, who played four years at Miami, and is the only Colt to appear in the Sweet 16. Football? Swoope never got around to that until his name was called in the NFL Draft.

Who started high school as a soccer player and switched to football to honor his brother, who had to give up the sport after serious concussion issues?

Matthias Farley. Had brother Nathan not run into career-ending health problems at Coastal Carolina, Matthias might be a midfielder today rather than a new safety for the Colts.

Who knows his way around West Point?

Josh McNary, who not only has an engineering management degree from Army, but had both grandfathers and an uncle serve in the Army. His father retired a Marine Corps captain. The McNarys have their own platoon.

And finally, whose career is older than 19 NFL stadiums?

All those not correctly answering Adam Vinatieri must pass a remedial Colts course taught by Blue, before they're allowed to question any more Chuck Pagano fourth-down decisions.•

__________

Lopresti is a lifelong resident of Richmond and a graduate of Ball State University. He was a columnist for USA Today and Gannett newspapers for 31 years; he covered 34 Final Fours, 30 Super Bowls, 32 World Series and 16 Olympics. His column appears weekly. He can be reached at mlopresti@ibj.com.