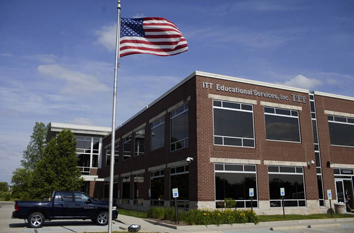 More than 100 former students of now-closed ITT Technical Institutes announced Wednesday they'll no longer make payments on their federal student loans, part of a small but growing revolt against what they call the Obama administration's negligence in policing for-profit colleges.
The students, many of whom graduated from ITT Tech campuses nationwide, say they're burdened with worthless credentials and debts they'll never be able to repay. They say the U.S. Department of Education, which manages the federal student loan program, failed to protect them and millions of others enrolled in schools that ultimately didn't deliver what they promised.
They join about 200 others who, beginning last year, launched a "debt strike" after the Education Department's bailout of Corinthian Colleges Inc.
Corinthian filed for bankruptcy last May. ITT Tech's Carmel-based parent company, ITT Educational Services Inc., announced last week it was shutting down all 136 of its eponymous campuses after the federal agency barred new students from using federal student aid to pay for its classes.
The striking former Corinthian and ITT Tech students want their federal student loans forgiven.
"We trusted that education would lead to a better life. And we trusted you to ensure that the education system in this country would do so," the strikers said in a joint letter published online and addressed to President Barack Obama and Education Secretary John King Jr. "Instead, each month you force us to make payments into an immoral system that profits from our aspirations… Our debt strike will continue until justice is served."
With some 300 Americans now publicly refusing to make payments on their federal student loans, the issue threatens to become yet another headache for the Obama administration. For years it has tried to stiffen rules governing career schools that predominantly rely on taxpayer-subsidized student loans and grants, but it only recently began exercising its vast enforcement powers, after years of sustained criticism from political allies.
Among those former students seeking debt relief is Joseph White, a 39-year-old ITT Tech graduate from Arnold, Missouri, who said he has incurred about $120,000 in government debt from taking classes at the school.
White attended the ITT Tech campus across the street from his home for several years starting in 2001, he said. He received two credentials: an associate's degree in software applications and programming in 2004 and a bachelor's degree in software engineering technology in 2008. He took a break from school for about two years in between to join the Missouri Army National Guard, he said.
White said he enrolled at ITT Tech because he was lured by promises from the school's recruiters, who he said told him his chosen programs placed 95 percent of graduates in related jobs and that a six-figure annual income was guaranteed.
"My recruiter asked me, 'Do you want to work at McDonald's the rest of your life?'" White said. "I drank the Kool-Aid."
Job recruiters now tell White to remove any mention of ITT Tech from his resume. Unable to land steady work, he later received an MBA from Fontbonne University in St. Louis, a not-for-profit school. He makes about $38,000 annually. White said his three degrees resulted in a combined $175,000 in federal and private student loans. He's been turned down for car loans because his debt load is too high relative to his annual earnings, he said.
White said he'll never pay off his debt.
It's that hopelessness that's prompted White to risk ruining his credit once he eventually defaults—potentially costing him housing and jobs down the road—all to publicly pressure the Education Department.
White is among the more than 1,400 former ITT Tech students that the Debt Collective, the activist group behind the debt strikes, has organized to petition the agency to cancel their debts on the basis of what they're calling ITT Tech's fraudulent behavior.
A little-used provision in federal law meant to guard against deceptions by colleges lets federal student loan borrowers have their debts canceled if the government finds they were defrauded into taking out their loans. Few took advantage of the provision until last year, in part because the Education Department and its loan contractors didn't advertise the right until the former Corinthian students launched their debt strike in February 2015.
Tens of thousands of Americans have since filed applications, federal records show. The Obama administration is now trying to alter the rule for future loan borrowers as part of an effort to clamp down on dodgy colleges.
Nicole Elam, an ITT spokeswoman, didn't comment on former ITT Tech students seeking debt cancellations, except to note that the Education Department has publicly said that its recent actions against ITT were not based "on a finding that they defrauded students."
The roughly 100 former ITT Tech students are hoping public pressure will force the Obama administration to act.
"The more ITT student debtors who take a stand, the more likely we all are to get debt discharges," the group says on its website. "We are more powerful together."
Please enable JavaScript to view this content.