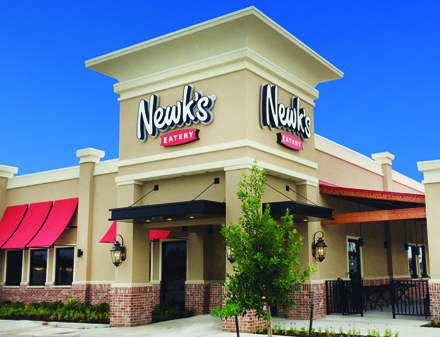 A Jackson, Mississippi-based fast-casual dining chain with plans for major growth is counting on Indianapolis-area diners to make those ambitions a reality.
Newk's Eatery announced Thursday that it has reached a development agreement with local investors to open 15 locations in the Indianapolis area and southern Indiana over the next several years.
Founded in 2004, Newk's features an open-kitchen concept and a menu of sandwiches, salads, soups and artisan pizzas, as well as some unique offerings like Red Velvet Whoopie Pies and Crawfish Pimiento Macaroni and Cheese. It was founded by dentist and entrepreneur Don Newcomb, who also founded McAlister's Deli.
Owner Sentinel Capital Partners plans to double the chain's size from 103 units in 13 states to about 200 units over the next three years.
Indy Eatery LLC, which is co-owned by Stephen "Kent" Mabe and Mitias Garrett Investments LLC, has agreed to serve as local development partner.
Mabe, a Carmel native, was formerly chief operating officer of McIndy Ventures, which opened 19 McAlister's locations in Indiana that were sold to South Rock Restaurants of Franklin, Tennessee, late last year.
"Indy Eatery will be locally operated by a native of the Indianapolis area who understands the market and, with his deep experience in fast casual, is an ideal partner to introduce the Newk's brand to Indiana," Newk's Chief Development Officer Chris Cheek said in a written statement. "Our Indianapolis locations will provide a strong base from which to build the Newk's brand in the Midwest."
Indy Eatery is the fourth multi-unit franchisee to sign with Newk's this year, the company said. Those four franchisees are expected to open more than 45 new restaurants in the next four years.
According to franchise disclosure information, Newk's stores that have been open at least a year had average annual sales volume of almost $2.5 million. The total investment to open a Newk's franchise runs from $932,000 to more than $1.3 million.
Nation's Restaurant News recently named Newk's the No. 5 fastest-growing restaurant chain, based on a 28 percent increase in units from 2014 to 2015.
Please enable JavaScript to view this content.