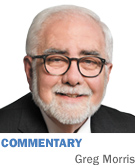 I'm going to be direct and try to keep this simple: The Indianapolis region needs better transportation options to position it for the future.
We've been discussing the need for mass transit ad nauseam for decades. We can't continue to be a great city without better transportation options, and we've got to start building this vital connectivity system now.
The immediate task at hand is for Marion County residents to go to the polls Nov. 8 and vote YES to the following referendum question:
"Shall Marion County have the ability to impose a county economic development income tax rate, not to exceed a rate of 0.25 percent, to pay for improving or establishing public transportation service in the county through a public transportation project that will create a connected network of buses and rapid transit lines, increase service frequency, extend operational hours and implement three new rapid transit lines?"
Please, I'm imploring you, if you are a registered Marion County voter, vote yes. If you are an influencer in the community, you need to be advocating strongly for mass transit now. Let your voices be loud and strong. Some of the major stakeholders in this effort are prevented from or have decided against advocating. They can/will only assume a role of educating. That means the rest of us have to pick up the slack in the advocacy role. We are less than eight weeks from the election, but there's also early voting. This is crunch time.
We can't move forward on mass transit approval without a majority of Marion County voters voting yes to the referendum question. A positive result will allow the process to progress to the next step—and that will be convincing the Indianapolis City-County Council to pass the mass transit funding tax hike. So it would be very helpful to send a clear message to the politicians that a strong majority of residents are willing to pony up an additional small amount of their hard-earned money to help fund better transportation options in the county.
Indianapolis ranks 46th among U.S. metro areas for socioeconomic mobility. Indy is the 14th-largest city, but has the 83rd-largest bus fleet. We're 73rd in employment accessible by transit, 79th in senior population with access to transit, and have more food deserts than any other of the nation's 100 largest cities.
Owning a vehicle isn't an option for many Marion County residents. Without a vehicle and no grocery store close, how do you get to the food? Do you walk for miles, hitch a ride, or pay for cab fare you can't afford? These are unacceptable options. Transit is just one piece of finding answers for the disadvantaged in our city.
Additionally, reliable transit provides all citizens and visitors access to jobs, education, health care and amenities. A full two-thirds of millennials identify access to quality transportation as a "top three" criteria in deciding where to live. The proposed Marion County Transit Plan provides for longer service hours, shorter waits and more connectivity.
This should be a no-brainer, folks. We're talking about a 0.25 percent income tax increase. That's 25 cents for every $100 of taxable income, or less than $10 per month for the average Indy family. Maybe you're fortunate enough to make $100,000 per year of taxable income. That's still less than $21 per month. We can do this without breaking the bank.
I'm giving you opinion and commentary here. I'm not a journalist. For a balanced, journalistic point of view, I encourage you to read IBJ reporter Susan Orr's recent article, "Vying for votes: Transit referendum spawns efforts to educate, influence."
Don't be confused; the referendum vote this go-around is not to approve the Red Line. That piece of the transit puzzle is happening via a $75 million Small Starts federal grant no matter the outcome Nov. 8. The referendum has nothing to do with Hamilton County or any other contiguous county; those folks will get their shot at a referendum in the next year or two. This vote is about Marion County residents approving a 0.25 percent tax increase to help fund the Marion County Transit Plan.
Please vote YES. It's the right thing to do on every possible level.•
__________
Morris is publisher of IBJ. His column appears every other week. To comment on this column, send email to gmorris@ibj.com.
Please enable JavaScript to view this content.