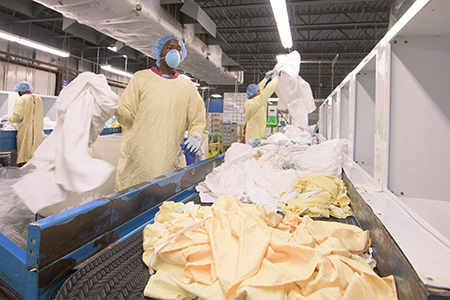 Everything is super-sized here.
The washing machines are as big as railroad cars. Towering boilers and compressors send hot water and steam through a building the size of two football fields. On overhead rails, sturdy bags brimming with up to 130 pounds of soiled laundry zip from sorting stations to washing machines.
This is the largest laundry in Indiana, serving 55 hospitals and 700 clinics all over the state. Every year, workers at United Hospital Services LLC wash, dry and fold more than 40 million pounds of sheets, blankets, towels, scrubs, gowns, washcloths and other linen.
Yet the laundry, a cooperative owned by 11 hospitals, is on a mission to get even bigger.
Just two years after pushing into Kokomo by merging with North Central Indiana Linen Service, the organization is planning its next move. This time, UHS officials want to expand into Northwest Indiana, a fragmented region where many hospitals do their laundry in-house or contract with operators in Chicago.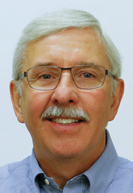 Gossman
"Our growth has to come from Northwest Indiana," said Ed McCauley, president of UHS since 2002. "We've got a lot of irons in the fire. We're talking to Beacon Health. We're talking to the Franciscans up there. … We think it's ripe for development."
It's the latest big push for an operation that opened its doors 50 years ago this month, and gradually won business from Logansport to Bloomington.
In just seven years, UHS has nearly doubled its number of customers, from major hospitals to small surgical centers. Today, it controls about 80 percent of the medical laundry market in central Indiana, but wants to extend its size and reach. Revenue last year was $22.5 million, much of which was plowed back into the operation.
Hospitals in the area say the huge laundry co-op is able to help them save time and money. UHS is co-operatively owned by some of the largest hospital systems in the state, including Indiana University Health, St. Vincent Health, Community Health and Franciscan Health.
"It's not our forte to be in the laundry business," said Lawrence Gossman, associate vice president of supply chain at Eskenazi Health and chairman of the co-op board. It's very labor intensive and would be very inefficient for all of us to try to do this on our own."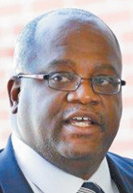 Mullins
Hospitals typically spend up to 3 percent of their budgets on linens and laundry, according to the American Reusable Textile Association. But some hospitals have been able to push that down below 1 percent by renting linens or entering into co-ops.
The Indianapolis co-op buys and owns all the linens, and charges customers a fee each time an article is used.
Workers check each piece for damage, and throw out the linens that are worn out, replacing them with new ones. The laundry keeps about $750,000 worth of linens in inventory. That kind of bulk buying saves money for members, said Dennis Mullins, vice president for supply chain at Indiana University Health.
"As one of the founding hospitals of UHS back in 1964, [we] saw then the benefits of this cooperative which still exist today," Mullins said.
Christopher Wenke, vice president and chief resource officer at St. Vincent Health, said the co-op "has consistently produced a high quality product at a reasonable cost."
The 113,000-square-foot facility on the far east side operates 10 hours a day, six days a week. The place hums with the sound of conveyor belts, washers, steamers, overhead monorail systems, and bins of laundry wheeling around the building.
The process begins when trucks unload carts of dirty laundry into a receiving area. Workers cut open big plastic bags and toss the soiled linen onto conveyor belts. The carts get pushed through a separate room for a power cleaning.
Dozens of workers sort through the linens arriving at their work stations. They pick up one piece at a time, separating towels from sheets and scrubs, and toss them down various chutes into huge canvas bags. The bags, hanging from monorails, are attached to weight sensors, and when they reach 130 pounds, they automatically are whisked to the washing machine.
Every 100 seconds, another bag empties dirty laundry into one of four immense washing machines, which are fed with detergent, softeners, bleaches and other chemicals.
After a 27-minute wash cycle, the white linens go through extractors, which squeeze out the water and shape the linens into flat, circular "cakes." Another machine dumps the cakes into dryers, where they are fluffed for 20 minutes.
The colored scrubs are draped on hangers and taken through a steam tunnel to get rid of wrinkles.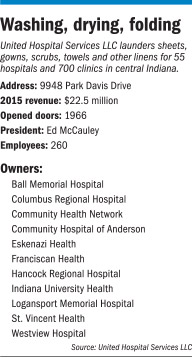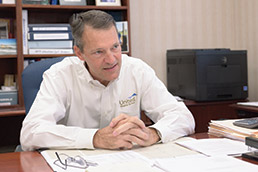 Ed McCauley, president of United Hospital Services, said the company's future growth could come from Northwest Indiana, where some hospitals do their own laundry. (IBJ photo/Eric Learned)
Although the plant is heavily automated, some steps are labor intensive. The plant employs about 260 people, an increase of about 20 percent from 2010.
Every few feet, workers give laundry the hands-on treatment: sorting dirty linens, wheeling carts around, feeding clean sheets into giant ironing machines, folding washcloths, examining linens for wear and tear.
Every so often, workers find a wedding ring, a denture plate, a cell phone or even a wallet hidden in the folds of linen.
"I'll never forget the day a surgeon called and said he had put his wedding ring in his scrub pocket and forgot to take it out," McCauley said. "We actually found it."
Even with all the hustle and bustle, the plant is remarkably tidy, and customers say they are pleased with the service.
"They are great to work with, and very helpful," said Melvin L. Garrett, director of environmental linen services at Franciscan Health. "If you have a linen issue, their response and service is second to none."
Hourly pay for laundry workers starts at $10 and rises to $13.50. Drivers can make up to $18 an hour; mechanics up to $22.
Some workers have stayed on the job for more than 20 years, McCauley said. But with modest pay and mundane work, keeping employees on the job is a big challenge. At any time, the company is trying to fill 10 percent to 15 percent of the positions.
That is likely to become a growing challenge if the plant keeps winning business. If it is successful in its goal to expand into the northwest corner of the state, that could mean more work and more employees.
"That could even warrant a whole separate plant up there," McCauley said.•
Please enable JavaScript to view this content.