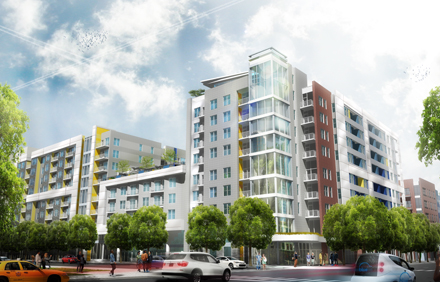 A $1.1 million city loan to a local developer for its $70 million apartment-and-retail project is triggering the first contribution to a new city art program.
In May, the City-County Council approved the program that requires real estate developers receiving tax-increment financing money from the city to pay 1 percent back for public art.
The first contributor to the program will be Indianapolis-based TWG Development LLC, which is poised next month to begin construction on Park at Pulliam Square. The nine-story building at 307 N. Pennsylvania St. will feature 334 apartment units and 4,600 feet of office space, in addition to 7,000 square feet of retail space at the corner of New York and Talbott streets.
On Sept. 7, the city's Metropolitan Development Commission signed off on an agreement in which the city would provide a $1.1 million loan to TWG for sidewalk and infrastructure improvements associated with Park at Pulliam Square—the second phase to the developer's Pulliam Square project which initially has taken shape on property directly to the east. The property for the two phases is the former site of the headquarters for The Indianapolis Star.
TWG, in turn, will contribute $11,000 (1 percent of the loan amount) to the city's public art program. TWG also agreed to upgrade building materials on the sides of the building facing Pennsylvania and New York streets, said Jeff Bennett, the city's deputy mayor of community development.
On those sides of the building, TWG will use a combination of masonry, steel and glass, with a small mix of fiber-cement siding.
TWG will mostly use the $1.1 million loan to improve the sidewalks on Pennsylvania and New York streets, in addition to making Talbott Street pedestrian-friendly and creating a public plaza there, TWG President Tony Knoble said. Talbott separates Park at Pulliam Square from the first phase to the east.
Under the art program, developers who receive tax-increment financing incentives are required to set aside some of their own money for public art—an amount equal to 1 percent of the TIF dollars. Developers can either include art in their projects or donate to a fund that will choose public art projects to be installed around the city. Half of the funds will be spent in low-income areas.
TWG plans to contribute by incorporating art into its Park at Pulliam Square project.
"We would do a mural or some type of public art on Talbott," Knoble said. "You would see it there in that area."
Passage of the public art program had been years in the making. Former Indianapolis Mayor Greg Ballard vetoed a similar proposal that passed the council in 2015, and another "percent for art" program was withdrawn in 2013.
TWG has financing in place for Park at Pulliam Square and is working through the permitting process to start construction next month, Knoble said. If construction stays on schedule, the first units should be ready in the spring of 2018, he said.
   
Please enable JavaScript to view this content.