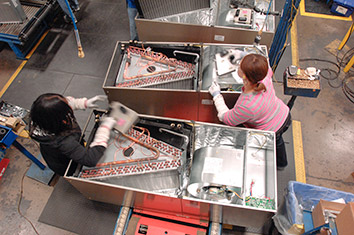 The city of Indianapolis has received a $355,000 federal grant to help support workers displaced by Carrier Corp., which earlier this year announced it would move its local manufacturing operations to Mexico.
The grant is from the U.S. Department of Commerce's Economic Development Agency, and "will be used to better support the city's regional economic initiatives" and support the hiring of a recovery coordinator for the city of Indianapolis.
"This person will be charged with helping to mitigate the hardships of unemployment and determine alternative employment opportunities for Hoosiers, especially those impacted by the closure of the Carrier facility," according to a written statement.
Carrier Corp. announced plans in February to relocate manufacturing operations from Indianapolis to Mexico over the next three years, resulting in the loss of about 1,400 local jobs. Shortly after, Indianapolis Mayor Joe Hogsett formed a task force aimed at helping the soon-to-be displaced workers.  
The Indianapolis City-County Council allocated a local match for the federal grant from the $1.2 million that was clawed back from Carrier Corp. in incentives.
Hogsett said the Carrier Task Force has worked hard to "convene resources and identify opportunities" to aid the families affected by the plant closure."Today's award by the EDA will provide invaluable opportunities for the community, helping to attract and grow manufacturing operations and putting affected employees back to work," Hogsett said.
The group said it would "convene local, state, and federal resources and direct every tool at our disposal toward supporting these workers in the days ahead," Hogsett said.
Carrier manufactures heating, ventilating, air conditioning and refrigeration systems at its plant at 7310 W. Morris St. on the west side of Indianapolis. Job losses are scheduled to begin in 2017 and continue through 2019.
The jobs are expected to move to Carrier operations in Monterrey, Mexico.
Please enable JavaScript to view this content.