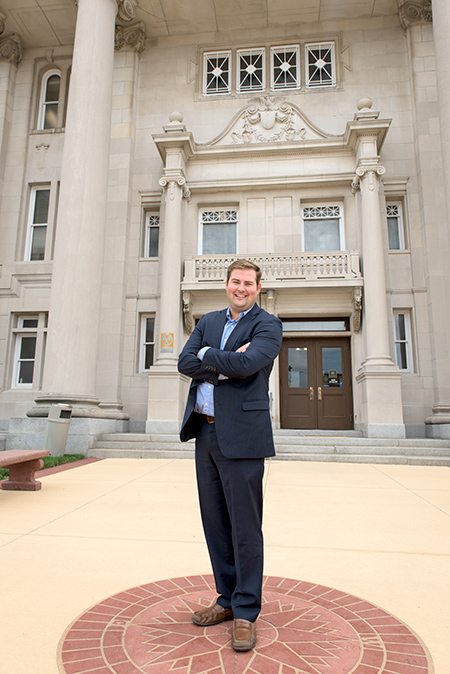 Lebanon Mayor Matt Gentry says the state should have a two-term limit that keeps mayors from serving more than eight consecutive years in office.
But after just nine months in his job, the former Boone County councilor already admits he could be tempted to stick around longer. Still, at the end of every day, the 27-year-old marks an X on his calendar as a reminder that his time could be limited.
You graduated from Purdue University in 2012 and then moved to Lebanon. Most millennials choose to move to big cities like Indianapolis. Why did you pick Lebanon?
The biggest thing was, I wanted to be near family, and at the time I was working down at the Statehouse [for House Republicans]. Lebanon worked out—small-town feel, but also a quick trip downtown.
Your family moved to Boone County in 2001 and has a Berkshire pig farm west of Lebanon. How involved were you with the farm growing up?
We used to joke that my dad's two passions were pigs and politics. My brother kind of took the pigs, and I kind of took the politics. I was in 4-H for nine years, showed hogs and had a lot of fun with it.
Do you ever work on the farm now?
Yeah. I mean, every once in a while. There are big shows—they go out to Iowa or to Springfield [Illinois]—and they need someone to kind of watch [the pigs], watch the farm and make sure they get their food. So, I'll go out there and help. I still have a little bit of that farm boy in me.
What made you want to get into politics in the first place?
I was just kind of born into it. I think I really was. I'm originally from Cincinnati, and Ohio has always been a hotbed for politics.
[After] an election night party in 1996, so it would have been the Clinton vs. Dole election, my parents walk in the door and I'm sitting in front of the TV crying. And they're like, "Matt, what's wrong?" I was like, "Bob Dole is gonna lose." So even as a 7-year-old, I was aware that I was a Republican.
Oftentimes, political parties prefer not to have primaries because it can cause fighting among themselves. Did you come across that?
It's something I struggle with today even. There are still people that are upset with me—the fact that I ran against the sitting mayor of my own party. But I felt that we had been stagnant for a while and we needed a spark. We needed something different. The people agreed.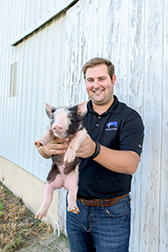 (IBJ photo/Eric Learned)
How often does your age come up? Do people give you a hard time about it?
One of the first meetings I had with CEOs of companies … we were just going around the room shaking hands and I said, "Hi, I'm Matt." So we sat back down, and I think one of them commented, "So when's the mayor getting here?" And I'm like, "I'm actually over here." You could see they had to adjust to how they were perceiving things.
Why do you think Lebanon hasn't seen the same growth and development as some of the other surrounding suburban communities?
I really think for a long time, kind of the city's fathers, they didn't want Lebanon to change. They were very happy with how Lebanon was, and I think they did a really good job pushing it away.
It's kind of come full circle now. [Development] really has gone everywhere else around Indy. We kind of are the only ones left. [Lebanon's reluctance] delayed it, but it got here.
What's next after serving as mayor? Another elected office or back to being behind the scenes?
You know, I have absolutely no idea. And that's the thing about politics—if you had told me last January that I would be the mayor, I would have told you you were crazy.•
Click here for other interviews.
Please enable JavaScript to view this content.